Natural Gas Measurement, Control, and Odorization Log
We provide insights into natural gas measurement, control, odorization, and various natural gas products.
Natural Gas Regulator Sizing | Itron Belas Control
There are some parameters needed to size a natural gas regulator properly to recommend the right unit for an application. This is true, no matter the brand, whether Itron, Emerson, Maxitrol or Belgas. While there are automated sizing programs available on the internet, until these apps are unfailing, I still do it the old-fashioned way. Call me old school, but it allows me to chat with our customers and assure them that they are getting the correct regulator for their application.
Request a Regulator Quote Here
Gas Regulator Sizing
If you have an application and would like to have a regulator sized, gather the information below and call us today at (303) 697-6701 or email info[at]lincenergysystems.com.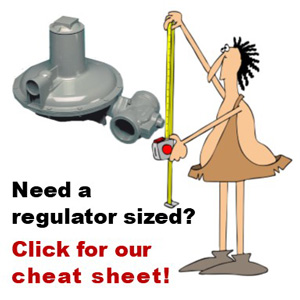 Click for Preston's Regulator Cheat Sheet!What type of gas are you regulating? While the majority of our customers are inquiring about natural gas or methane, we can assist in the regulation of other fuel gases.
What is the supply or inlet pressure? This is the pressure upstream of the regulator, and we refer to this as "P in" If you do not have a pressure gauge, you can always call your gas distributor or purchase one from us. We need the inlet pressure to select the correct pressure rating of the regular as well as determine the pressure drop across the valve. The units of measure for pressure are PSI (pounds per square inch) or inches of water column ("WC).
1 PSI = 28" WC
What is the desired outlet pressure? This is the pressure downstream of the regulator, and we refer to this as "P out." It can be the desired set point (e.g., 30 PSI) or a range (e.g., 10 to 20 PSI). The difference between the inlet and outlet pressure or upstream and downstream pressure is called the pressure drop.
P in – P out = pressure drop (or pressure differential)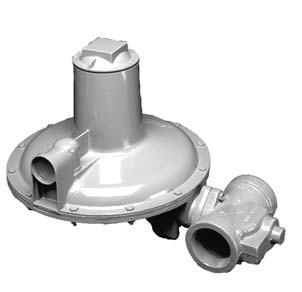 Itron B34 regulator pictured. To properly size a natural gas regulator, the following needs to be considered: gas type, application, inlet and outlet pressure, flow, and pipe size.What is the flow range? The flow and pressure drop will help determine the size of the regulator. Flow is typically expressed in CFH (cubic feet per hour or CHM (minute)
1 CF = one cubic foot of gas = 1,000 Btu
1 CFH = one cubic foot of gas per hour = 1,000 Btu/hour
100 CF = 100,000 Btu = 1 Therm
The following information is also helpful:
The desired pipe size
What is the application? What is the expectation of the regulator?
Is the regulator to be installed indoors or outdoors?
Is noise to be considered?
Without knowing the above parameters, we cannot accurately size regulators. Also, understand that if the settings changed, it is possible that a different regulator could be recommended.
Natural Gas Control
If you are interested in a natural gas regulator, we sell a number of leading brands, including Itron, Belgas, Maxitrol, and Honeywell. If you are interested in viewing our Itron regulators, visit Natural Gas Regulator. Or check out this video on the Itron B38 and Itron B38IMR V regulators.
Blog posted from
11919 W Interstate 70 Frontage Rd N #109, Wheat Ridge, CO 80033, USA
View larger map
Trackback URL for this blog entry.