Natural Gas Measurement, Underground Utilities and More Blog
We provide insights on natural gas measurement, underground utility damage prevention, utility contractor services and various natural gas products. Formerly the Linc Energy Blog.
How to select the correct natural gas regulator? (Sizing)
Continuing my "Back to Basics" series, I thought I would address sizing natural gas regulators.
Natural Gas Regulator Sizing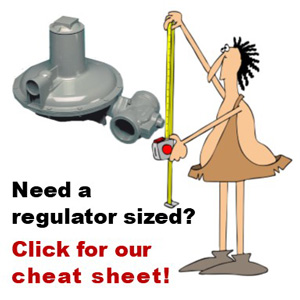 Click for Preston's Regulator Cheat Sheet!As a stocking distributor of natural gas regulators, I am often asked by my customers which regulator to use for a particular application. I usually ask a few questions and can quickly direct the customer to a product. Occasionally a DIY-type (do-it-yourself) will ask, "What's the secret to selecting the correct product?"
There's no secret, and I am happy to share the information which is why I am posting it here. There are five areas which help ascertain which regulator to recommend:
What type of gas are you regulating? While the majority of my customers inquire about natural gas or methane, I can assist in the regulation of other fuel gases.
What is the inlet pressure? If you do not have a pressure gauge, you can always call your gas distributor, or inquire about some of the excellent gauges (gages) we have available.
What is the desired outlet pressure?
What is the flow?
What is the desired pipe size?
If you have the answers to these questions, you have the information needed to select the correct regulator. Without having a background and knowledge of regulator capabilities, however, you may find yourself studying endless sizing charts and graphs.
While there are some sizing programs available, they are not foolproof and until they are, I personally still size my customer's regulators the old-fashioned way.
Before you get the magnifying glass out to pore through those charts, remember I am happy to assist my customers by sizing regulators for their applications. Call today, (303) 697-6701.
Update to Post
We have more information available on the parameters needed to size a natural gas regulator correctly on "Natural Gas Regulator Sizing | Itron Regulators."
Trackback URL for this blog entry.