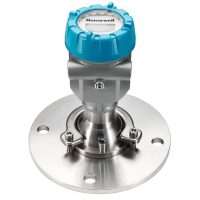 Honeywell Non-Contact Radar Level Transmitters

Honeywell SmartLine Level Transmitters use non-contact radar (NCR) 80 GHz FMCW technology. They measure the level of a range of liquid and solid products on various installations within the stated pressure and temperature range.
SmartLine Non-Contact Radar Level Transmitters help users:

Reduce engineering effort, project costs, and startup time
Increase security against unauthorized access
Avoid unplanned downtime and application errors
Shorten time to repair ​​
Reduce spare parts inventory
Minimize maintenance through the non-contact measuring principle
Features & Benefits
What are Non-Contact Radar Level Transmitters?
The SmartLine® Non-Contact Radar Level Transmitter employs the latest 80 GHz technology, modular design, advanced display, and intelligent false echo detection algorithms to deliver highly accurate level measurements and best-in-class performance.
The non-contact design can measure various applications in liquid and solid level measurements with the stated pressure and temperature range. The transmitter works on process tanks, storage tanks, mobile containers, and bulk solid silos. This advanced-level transmitter can measure media with a dielectric constant of 1.4 or greater. The integrated and encapsulated antenna designs allow for deployment in even narrow tank installations while still providing a level measurement for liquids up to 30m and solids up to 120m.
How do SLN700 Non-Contact Radar Level Transmitters work?
The SLN700's principle of operation utilizes an 80 GHz frequency modulated continuous wave (FMCW) to deliver highly accurate level measurement.
The SLN700 continuously emits a radar wave at a specific frequency range.
The radar wave travels through air and reflects back when encountering a surface of a different dielectric than air.
When the reflected wave is received at the launch point, a time delay is linked to the wave propagation.
The difference in the frequency of the emitted and received waves are captured and quickly processed using fast Fourier transform, or FFT calculations, resulting in highly accurate distance and level measurement.
What are the benefits of the SLN700 Series SmartLine?
The SLN700 Series SmartLine® Non-Contact Radar Level Transmitter offers the following:
A modular design reduces inventory and enhances flexibility.
An advanced display and local configuration capabilities permit configuring with any handheld device using the new DTMs and through the display buttons.
Seamless integration with Experion® PKS that provides extended diagnostics, maintenance status display, and transmitter messaging.
What Problems Does It Solve?
SmartLine Level Transmitters are used in applications where capacitance, hydrostatic level, or ultrasonic level measurements may have been used previously. Immune to changes in conductivity, density, pressure, and temperature, the level meters offer better reproducibility and accuracy than these other technologies.
Specifications
SmartLine Application and Validation Tool
The SmartLine Application and Validation Tool helps users get the right instrument for their application. The tool enables error-free selection and validation of the device through efficient online collaboration. The tool documents your selection inputs and helps you share them with others. The ordered instrument arrives fully preconfigured, shortening the commissioning time. Learn more.
Resources & Downloads