Honeywell Versatilis Lifecycle Solution R100
We're happy to announce that the new Honeywell Versatilis Lifecycle Solution R100 is now available. The Versatilis Lifecycle is an integrated set of tools that helps efficiently visualize the data and information related to a user's field instrument's lifecycle, thereby reducing the operating expenditures associated with those instruments. The Lifecycle Solution is an annual software license (SaaS) currently hosted on Honeywell's cloud, and the data remains securely accessible to its users only.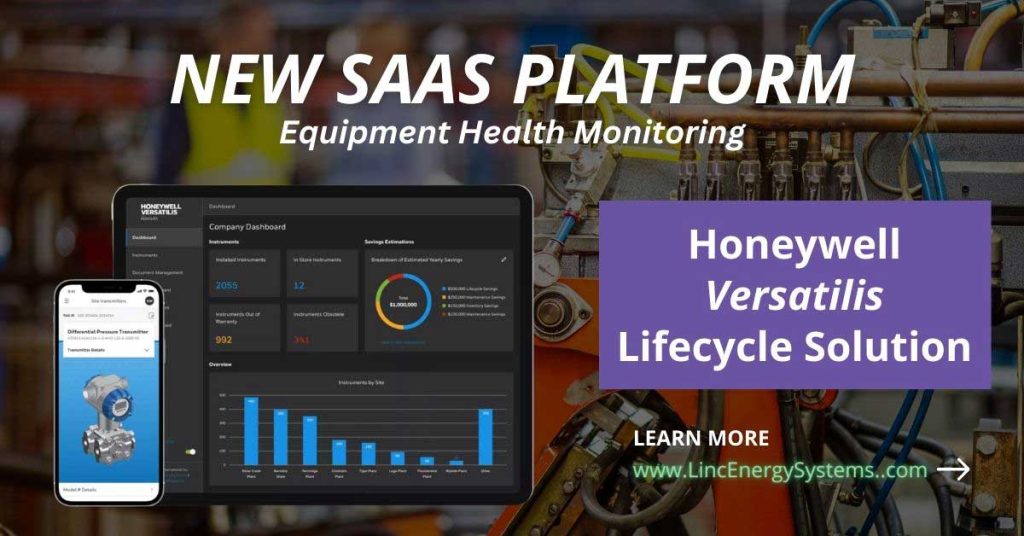 Honeywell Versatilis Lifecycle Solution is a SaaS platform that helps users monitor field equipment's health and lifecycle to reduce operating expenses.
Versatilis Insights
The Versatilis Insights is an intuitive and secure web-based dashboard that managers and multi-site owners can use to see an overview of your company's instruments, an in-plant or cross-site view of the entire operation. Drill down to see what is happening at each site and manage user access to your valuable data, all in a cyber-secure manner.
Versatilis Lifecycle
The Versatilis Lifecycle is a secure, integrated instrument management app that provides the field technician or an engineer the Insights and even more features for mobile platforms about the field instruments. It allows the user to verify, organize, update, order, and get support for transmitters across their lifecycle.
The software helps the project, maintenance, and engineering reduce the cost of their project execution through better planning while lowering inventory and maintenance costs. Additionally, procurement and receiving get great help by eliminating their delivery validation overheads and reducing time to information.
The Lifecycle Solution Helps Users:
The Versatilis Insights and Lifecycle are vendor-neutral, meaning they apply to any field instrument from any supplier, not just Honeywell.
The "accessible" database centralizes the information regarding instrumentation assets and eliminates mismatches between the field and control room, thereby improving regulatory compliance.
Knowing the actual lifecycle state of the instrument and what's available (in stores) and what's not reduces potential production losses and associated risks.
The database soon becomes a reliable source for instrument information and associated documentation/logs, which one can access accurate information in minutes without specific skill set dependency.
Reduces engineering costs by replicating "ready packages" across sites.
The Lifecycle Solution reduces operating costs by having an elevated view of equipment's warranty, obsolescence visibility, and inventory optimization.
The user attains secure field operations by integrating Honeywell Versatilis Configurator and the Honeywell Versatilis Lifecycle solution.
Versatilis Lifecycle Video
Download the Versatilis Lifecycle Solution datasheet.