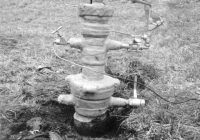 Trenton Wax Tape for Anti Corrosion of Pipelines

Trenton Wax Tape is an anti-corrosion tape that supports cathodic protection of oil and natural gas pipelines.
Solutions for protecting pipelines
Wax-Tape #1– the bestselling belowground anti-corrosion tape remains pliable and supports cathodic protection, even with wet or irregular surfaces.
Wax-Tape #2 – the aboveground anti-corrosion tape hardens to protect against weather conditions. Excellent for above ground pipe, bridge crossings, vaults, and other surfaces, whether straight or irregular.
Trenton Tape HT-3000 is the perfect anti-corrosion tape for high-temperature pipeline applications; an alternative to Denso tape.
Features & Benefits
Trenton's corrosion prevention system is as easy as:
Prepare Surface: Use a wire brush to clean off loose rust and dirt.
Apply Primer: Rubbing the primer penetrates surface rust and displaces moisture, thereby prepares the surface for wax tape application.
Apply-Wax Tape: Wrap the appropriate Wax-Tape to the pipe, then press to remove air.
Apply Overwrap (optional) for added protection against those mechanical annoyances like industrial weed cutters or soil stress.
Specifications
Learn more about Trenton's anti-corrosion systems: