Velocity Meters Part III – Vortex Flow Meters for Gas
Continuing our series on gas flow meters, earlier, we discussed turbine meters and ultrasonic meters as velocity-type flow meters that measure natural gas. One last meter in this classification worthy of mentioning is the vortex gas flow meter.
Need assistance with a gas flow meter?
Vortex Flow Meters
Vortex meters are a latecomer to API approval for custody transfer of natural gas; the American Petroleum Institute drafted standards in 2007 with updates in 2010. This late-in-the-game approval has made it difficult for vortex meters to catch up to the ultrasonic, differential pressure, and turbine meters. Consequently, vortex meters have not penetrated the natural gas custody transfer market. The meters are used primarily in industrial markets with very little custody transfer of natural gas usage.
Pros
The vortex flowmeter is versatile, and the only other meter that is as adaptable is the DP flowmeter. The vortex meter can reliably measure gas flow, liquid, and steam, except the vortex meter measures fluids with higher accuracy and less pressure drop than DP flow meters. Vortex meters tolerate the high temperatures associated with steam flow measurement also. The meters have no moving parts, and there are multivariable vortex meters that can provide mass flow measurements. As mentioned earlier, the meter is approved for custody transfer applications.
Cons
While approved for fiscal billing of natural gas, its late entry into the market has slowed market penetration and product acceptance. There can also be some pressure drop due to its bluff body. The biggest hurdle presented with vortex meters is that noise caused by pipe vibrations, or other disturbances will degrade the meter's accuracy.
Vortex Meter Manufacturers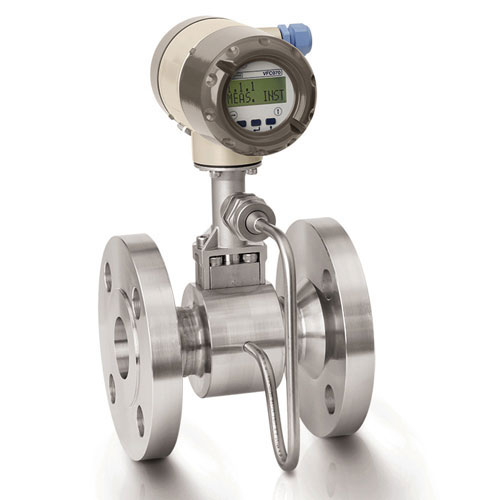 Manufacturers of vortex flow meters include:
Emerson Rosemount
VorTek Instruments
ABB
Badger Meter
Endress+Hauser
Sierra
Please note that we do not represent a vortex flowmeter line. Perhaps one of the other flowmeter technologies will satisfy your application.
Need assistance with a gas flow meter?
This article is the last of velocity meters and is part of a series on gas flow meters. Perhaps these articles will interest you: