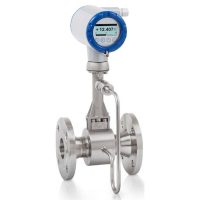 VersaFlow Vortex Shedding Flow Meter

The Honeywell VersaFlow Vortex Shedding Flow Meter is ideal for measuring the volumetric and mass flow rate of steam, gases, and low-viscosity liquids in industrial applications.
VersaFlow Vortex 200 Shedding Flowmeter

VersaFlow Vortex Shedding flow meters are the most versatile products in their category, with built-in temperature and optional built-in pressure compensation.​
The VersaFlow Vortex Shedding flow meter is a two-wire design available in configurations for pipeline sizes from 1/2" to 4" in a wafer design and 1/2" to 12" in a flanged design.
Features & Benefits
Honeywell VersaFlow Vortex 200
The VersaFlow Vortex 200 is the vortex flowmeter with integrated pressure and temperature compensation in 2-wire technology. With integrated density compensation capability, the VersaFlow Vortex Flow Meter accurately and reliably measures the operating, standard volumetric, and mass flow of conductive and non-conductive liquids, gases, and vapors, even with fluctuating pressures and temperatures. Furthermore, it can measure hot water and steam's gross and net heat quantity.
VersaFlow Vortex Flow Meter Features and Benefits
Reduced installation cost and improved performance
Rugged, long-lasting design for the most demanding applications
Easy to install and maintain
Multiple parameter monitoring
A 2-wire device with integrated pressure and temperature compensation
Non-wearing, fully welded stainless steel construction with high corrosion, pressure, and temperature resistance
Optimal process reliability due to Intelligent Signal Processing (ISP)
Maintenance-free, water hammer-resistant sensor design
Access pressure and temperature via HART®
Specifications
Vortex Shedding MeterSpecifications
Applications
VersaFlow Vortex Meter Applications
Superheated and saturated steam measurement
Steam boiler monitoring
Monitoring of compressor output
Measurement of consumption in compressed air systems
Measurement of consumption of  industrial gases
Measurement of conductive and non-conductive liquids
SIP and CIP processes in food and pharmaceutical