Universal Vortex VPGH a Pilot Gas Heater with No Emissions
Linc Energy Systems is now a distributor of Universal Vortex, Inc., and offers UVI products, including the maintenance-free Vortex Pilot Gas Heater. The product prevents regulator pilot gas from freezing up in applications within natural gas transmission & distribution pressure regulation stations and requires no energy to use.
About Universal Vortex, Inc (UVI)
Universal Vortex, Inc. (UVI) provides the natural gas, CNG, LNG, and industrial gas industries with non‐freeze high-pressure reduction solutions. These innovative offerings utilize its proprietary technology to save energy, save money, eliminate greenhouse gas emissions and improve the reliability of gas supply.
The Technology and Self-Heating Pressure Reducers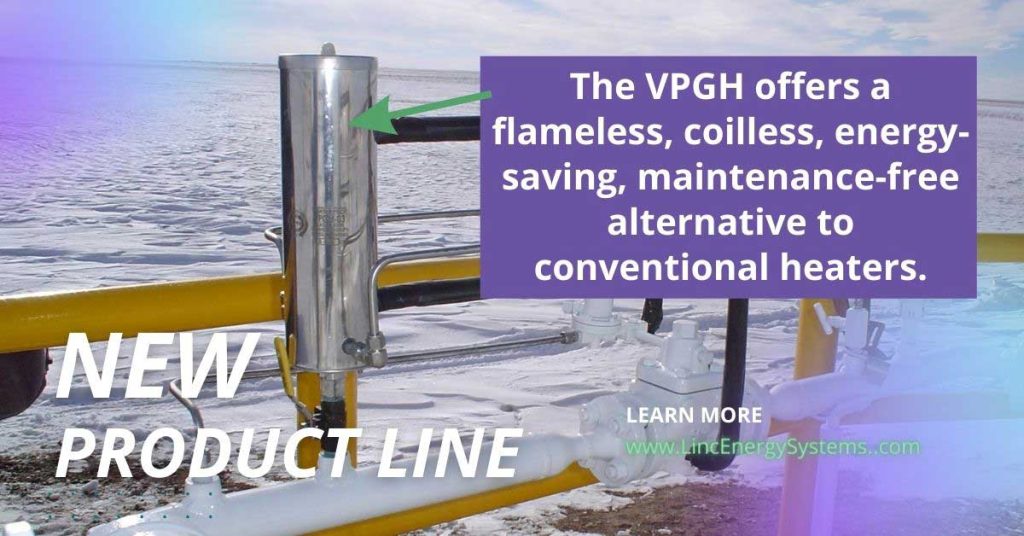 The UVI vortex tube (VT) generates cooling and heating from periodic pressure reductions in expanding gas. In UVI's proprietary VT design, a portion of the generated hot gas is internally applied to warm the VT inlet nozzle (non-freeze protection), making the VT a self‐heating pressure reducer.
The self‐heating design allows the VT to serve as a primary non‐freeze pressure reducer, thus eliminating the need for upstream gas preheat. An additional benefit is the availability of free cooling and heating load that can be used for technical requirements.
Vortex Phenomenon
Another benefit of vortex technology is that the "vortex tube" functions as a pressure regulator in a process requiring gas pressure reduction. The vortex phenomenon creates vortex cooling and heating at no cost. For this reason, UVI VT-based products and applications are related to natural gas pressure regulation, one of the products being the Vortex Pilot Gas Heater.
Vortex Pilot Gas Heater (VPGH)
The Vortex Pilot Gas Heater eliminates the need for preheating upstream gas. The heating device is a reliable and thermally efficient alternative to catalytic heaters, offering energy savings, has no moving parts, and is maintenance-free. The VPGH has been around for over twenty years and prevents regulator pilot gas from freezing up and is especially beneficial where electronic instrumentation for monitoring is used in natural gas transmission & distribution pressure regulation. The Cl I Div 1 explosion-proof device meets and exceeds federal and state requirements for regulator station design and applications.If you'd like more information, message us or connect with a sales team member.