Natural Gas Regulator Sizing Calculators Programs, and Tools
I always encourage customers to call our experienced staff or me for natural gas regulator sizing. Every once in a while, a customer will ask for the links to the regulator sizing programs. For this reason, I am providing links to manufacturers' sites that offer programs, calculators, or sizing tools below. Please know, however, we still prefer to size our regulators the old-fashioned way. In other words, collect the information and message us or CALL!
Need assistance sizing a reg? Call 303 697-6701 or message here.
Natural Gas Regulator Sizing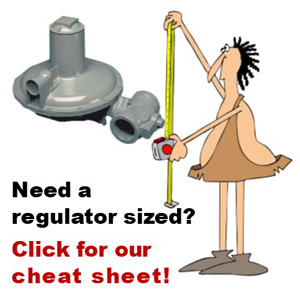 Not all regulator manufacturers offer such tools – or they are not available at the time of this note [Belgas, Sensus (formerly Rockwell, Invensys, Equimeter), Honeywell (Elster American Meter)]. Of course, we cannot endorse the accuracy of any of these programs. In any case, before using the tools, you will likely be asked to provide:
Gas Type
Minimum Inlet Pressure (PSIG or " W.C.)
Maximum Inlet Pressure (PSIG or " W.C.)
Outlet Set Pressure (PSIG or " W.C.)
Maximum Capacity Required (SCFH, BTU/H)
Pipe Size
Location (indoor or outdoor?)
Perhaps more
Manufacturers Regulator Sizing Tools
Here are the links to pages that will direct you to the manufacturer's program or calculator:
Itron (formerly Actaris, Schlumberger, Sprague)
If you're in the market for a new regulator, we'd love to hear from you. We offer a comprehensive line of control instruments from the finest manufacturers.