Natural Gas Measurement, Underground Utilities and More Blog
We provide insights on natural gas measurement, underground utility damage prevention, utility contractor services and various natural gas products. Formerly the Linc Energy Blog.
Rocky Mountain Measurement Society (RMMS) 2017 Trade Show
The 2017 Rocky Mountain Measurement Society (RMMS) Oil and Gas Measurement Trade Show is August 15 in Loveland Colorado.
Rocky Mountain Measurement Society
The Rocky Mountain Measurement Society is a nonprofit organization that promotes the advancement of oil and gas measurement for the benefit of its members, industry, and the public. The society educates on industry standards, regulations, common industry practices, and trends.
The Five Ws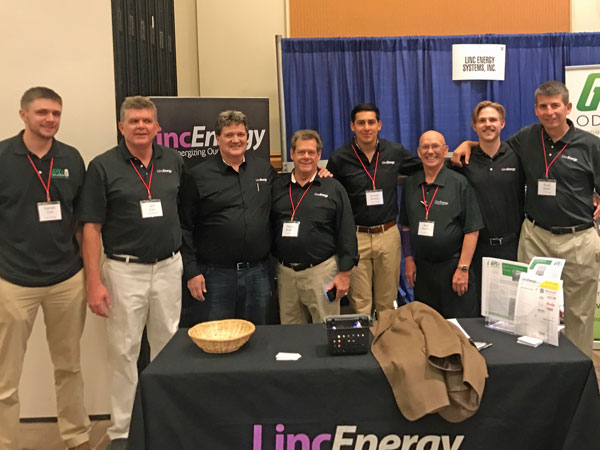 Pictured right to left: Garrett Cox, Jeffrey Cox, KC Forward, Randy Bishop, Brando Bustos, Russ Brooks, Graham Good and Russ Isaac.Who: Rocky Mountain Measurement Society
What: 2017 Oil and Gas Measurement Trade Show
Where: Embassy Suites by Hilton 4705 Clydesdale Pkwy, Loveland, CO 80538.
When: August 15
Why: Learn about some exciting new products from Linc Energy Systems.
Linc Energy Systems Booth
Stop by the Linc Energy Systems to meet members of our team and learn about new products from some of our manufacturers, including Honeywell Elster, Honeywell Mercury Instruments, Honeywell Process Control, Itron, Sage Metering, Maxitrol, IMAC Systems, GPL Odorizers, GAZOMAT and Carlon Meters.
Those members of Linc Energy Systems attending are KC Forward, Graham Good, Jeffrey Cox, and Garrett Cox.
For more information, please contact Advancing Hydrocarbon Measurement.
Trackback URL for this blog entry.