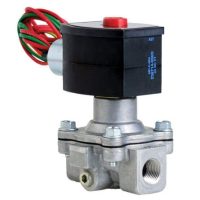 ASCO 8215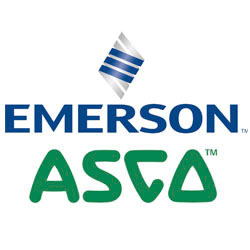 The ASCO solenoid 8215 valve controls the critical flow of air, inert gas, and natural gas. This model is a two-position on/off valve.
Red Hat 8215
The ASCO 8215 is a direct-acting or piloted aluminum body solenoid valve ranging in sizes 1/8″ to 3″ NPT. The valve is lightweight, low cost, and provides a high flow (Cv up to 138 on 3″ models).
The ASCO RedHat power management technology is reliable and with efficient power consumption, accepting both AC and DC voltages.
Features & Benefits
 NORMALLY CLOSED (Closed when de-energized) UL Listing = Safety Shutoff Valves; Max Fluid Temp = 125F
Catalog

Number

Pipe

Size

(in)

Orifice

Size

(in)

Cv

Flow

Factor

Gas

Capacity

Btu/Hr (6)

Min

OP Dif.

Max OP

AC

Air-Fuel Gas

8215G010
3/8
 3/4
 3.4
 183,000
 0
 50
8215G020
1/2
 3/4
 4.4
 238,500
 0
 50
8215G030
 3/4
 3/4
 5.1
 247,500
 0
 50
8215B050
 1
 1 5/8
 21
 1,119,000
 0
 25
8215B060
 1 1/4
 1 5/8
 32
 1,730,000
 0
 25
8215B070
 1 1/2
 1 5/8
 35
 1,900,000
 0
 25
8215B080
 2
 2 2/32
 60
 3,251,000
 0
 25
8215A090
 2 1/2
 3
 117
 5,821,000
 0
 5
8215A040
 3
 3
 138
 7,430,000
 0
 5
Features
Lightweight, low-cost
Ideal for low-pressure applications
Provides high flow, Cv up to 138