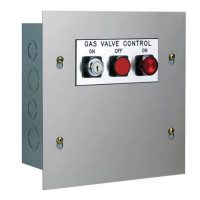 ASCO Gas Service Relay Control Panel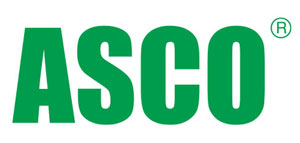 The ASCO gas service controls (and valve) regulate gas flowing within industrial and commercial facilities, and institutions. The system's components control gas flow and provide emergency shut-off points at the ASCO relay panel (108D90C – pictured on left), the master control station (216C89) and various locations installed with control stations (173A19 and/or 173A20).
ASCO Principle of Operation Relay Control
Operating the key switch on the master control station (216C89) energizes the relay (108D90C) to open a solenoid valve (Series 8215) which is normally closed and turns on the gas flow.
ASCO 108D90C Relay Control Panels
AC Relay Control Panel model 108D90C provides 120/60 AC voltage output for AC valves. The unit has a key-operated switch with a manual "on" and "off" buttons on the cover of the enclosure. It is for flush-mount applications and supports surface-mount installations.
Features & Benefits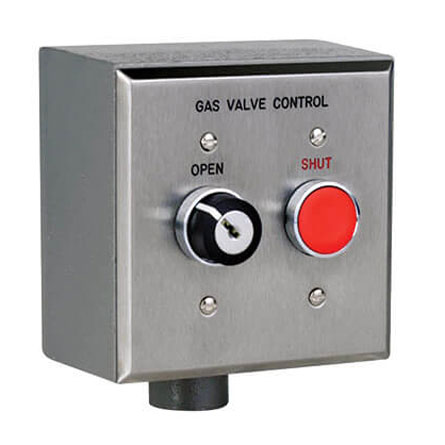 Master Control Station
ASCO Master Control Station 216C89 consists of an "open" key switch which powers the relay and opens the solenoid valve, turning on the gas flow, along with a red pushbutton marked "shut" to shut down the flow.
Control Stations
Control Station 173A19 (flush-mount) and 173A20 (surface-mount) consist of red push-button emergency stop button. When pressing the button, the power to the valves is shut off, stopping gas flow almost instantaneously (<0.1 seconds).
Solenoid Valve 8215
The ASCO Redhat 8215 solenoid valve highlight a 2-way normally-closed operation for gas service. The explosion-proof valves are designed for low-pressure city gas. The control voltage is 80 to 90 volts DC or 120/60 volts AC. Learn more >
Panel Features
Reliability - If the control voltage is absent or reduces to approximately 50% of the normal value, the relay closes the solenoid valve to shut off the gas flow. Additionally, the gas can be shut off by pressing the pushbutton switch(es) located on the control station(s). The solenoid valve will not open upon restoration of voltage until an authorized person operates the key switch on the control station, eliminating the danger of gas escaping.
Auxiliary push-buttons (173A19 and 173A20) may be strategically located throughout the facility to provide immediate shutoff under emergency conditions.
Silent operation – Using the DC output provided by the relay panel to the valves eliminates the constant alternating current "hum" typically associated with solenoid valves.
Appearance – The shallow-depth NEMA Type 1 enclosure is flush mounted to permit in-wall installation which eliminates obstructions in high traffic areas or corridors.
Long Life – The relay and solid-state rectifier are built to provide long life.
Easy Installation – The terminals are clearly marked, and the installation drawings are conveniently inside the door.