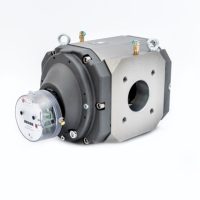 Gas Flow Meter by Elster

The Honeywell Elster RABO Rotary Gas Meter is a highly accurate rotary meter ideal for commercial and industrial natural gas measurement applications.
Elster® Rotary Gas Meter (RABO)
Honeywell Elster has combined established features of their RPM and IRM rotary meter lines with new improvements into the Elster Rotary Gas Meter (also known as the RABO meter). The new meter offers elements that satisfy most market applications in a simple design.
Features & Benefits
Operating Principle
The Elster Rotary Gas meter (RABO) operates using a rotary type positive displacement principle. The meter measures volume by displacing a fixed amount of gas. This gas displacement occurs within a cavity formed between the meter's internal housing and its rotating impellers. The counter-rotating impellers (shaped like an "8") move when there is a pressure drop across the meter's inlet and outlet. The pressure drop is created as downstream gas is used. The rotating impellers isolate the gas into small, finite, volumes and a mechanical index keeps count.
Main Features
Five meter sizes: 3.5M, 5.5M, 9M and 14M, 23M (3,500 to 23,000 acfh maximum capacity
2", 3", 4", 6" ANSI 125/150 flanged connections
High rangeability
Low-pressure drop
Differential pressure test ports
Two 1/4" NPT taps on the inlet
Non-lubricated and non-resettable index
End view, rotatable index
Heavy-duty, compact design
High-impact-resistant, ultraviolet stabilized index
Cover
Anodized extruded aluminum body and impellers
Anodized forged aluminum case covers
Permanently lubricated bearings
Options
Options
Pulse outputs
Thermowell
Index masking
Gasket strainers
Flange bolts and gaskets
AMR mounting
Differential pressure gauge kit
Instrument Drive
Corrector mounting bracket
Direct mount TCI or EC350
1 1/2" NPT mounting kit