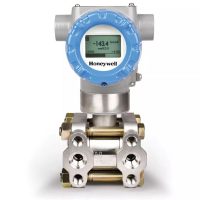 Honeywell Pressure Transmitters ST800/ST700

Honeywell SmartLine pressure transmitters deliver industry-leading performance in the harshest process environments with the industry's first modular and most robust pressure transmitters. The company offers two lines of transmitters, the SmartLine ST800 and the SmartLine ST700, along with Smart Line pressure accessories.
SmartLine Pressure Transmitters
A pressure transmitter measures the expansive force of, in this case, a fluid or gas. It may also be known as a pressure transducer and is commonly used to measure the pressure inside industrial machinery to alert users before an incident occurs. They have a wide range of different industrial uses.
The SmartLine ST700 line is a general performance transmitter and meets industry performance for stability, rangeability, and reliability.
The SmartLine ST800 line of instruments has higher performance than the ST700 line, with increased accuracy, faster response time, and higher stability.
Features & Benefits
SmartLine ST800/ST700 Pressure Transmitters
Absolute Pressure Transmitters
SmartLine STA800/STA700 are absolute pressure transmitters used for vacuum applications requiring high accuracy. They are ideal for low-pressure measurement in vacuum distillation columns. They are available in two variants: in-line and single-head.
Differential Pressure Transmitters
SmartLine STD800/STD700 are differential pressure transmitters that bring smart technology to a broad spectrum of measurement applications ranging from furnace combustion airflow rate to hydrostatic tank gauging. They are ideal for critical process loops and high-value applications such as custody transfer and energy and material balances.
Flange Mount Pressure Transmitters
SmartLine STF800/STF700 flange mount pressure transmitters may be installed directly onto a tank flange and offered with various tank connections. They are ideal for critical applications such as natural gas custody transfer and energy and material balances, where accuracy and stability are paramount. Four ranges of transmitters are available.
Flush Mount Pressure Transmitters
Smartline ST700 Flush Mount pressure transmitter can directly insert into processes using a 1" sleeve welded into the process line. They are for pressure measurement in the head box of pulp and paper plants. They are available from 0-1 to 0-100 psig and can be installed in various hazardous locations. The flush mounting capability eliminates the possibility of clogging, while the insertion design permits quick and trouble-free transmitter change-outs.
Gauge Pressure Transmitters
SmartLine STG800/STG700 gauge pressure transmitters are ideal for high-pressure measurements in boilers, fuel feeds, and tank-level measurement applications with a relatively high process temperature.
ST800 Dual Head gauge pressure transmitters are appropriate for applications requiring small flanges or 1/2" NPT connections, such as gauge pressure measurement of reaction vessels in the chemical industry and level applications with process temperatures of up to 302°F.
In-line transmitters are screwed directly onto a 1/2" male NPT nipple and can be installed in hazardous environments for accurate, repeatable pressure measurement. Typical applications include high-pressure measurement in boilers, fuel feeds, and high-pressure reaction vessels in the petrochemical and hydrocarbon recovery industries.
Remote Diaphragm Transmitters
SmartLine STR800/STR700 remote diaphragm seal transmitters accurately measure various corrosive or high-temperature process fluids applications. The transmitters are offered in the following ways:
Flush flange seals
Flange seal with extended diaphragm
Pancake seals
Sanitary seals
Chemical tee Taylor wedge
Seals with threaded process connections
Saddle seals
Calibration rings
Stainless steel armor and PVC-coated, stainless steel armor capillaries
2" stainless steel nipples
Welded meter body
Specifications
SmartLine Application and Validation Tool
The SmartLine Application and Validation Tool helps users get the right instrument for their application. The tool enables error-free selection and validation of the device through efficient online collaboration. The tool documents your selection inputs and helps you share them with others. The ordered instrument arrives fully preconfigured, shortening the commissioning time. Learn more.
Resources & Downloads