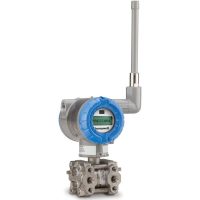 Honeywell SmartLine Wireless Transmitters

The Honeywell wireless transmitters include the SmartLine Wireless Pressure Transmitters, temperature transmitters, the XYR 6000, and the OneWireless Adapter for wireless communication with HART transmitters.
Wireless Differential Pressure Transmitter
Differential pressure transmitters measure the pressure difference between two points and have widespread use in flow applications like furnace combustion airflow rate or level applications such as hydrostatic tank gauging.
SmartLine Wireless Differential Pressure Transmitters are offered in two different series: the high-performance Series 800 and the high-value Series 700. The transmitters offer exceptional accuracy while generating cost savings by providing a solution to safely and securely obtain data from remote and hazardous locations. The SmartLine Wireless Differential Pressure Transmitters are offered in multiple different ranges.
Features & Benefits
Wireless Flange Mount Pressure Transmitters
SmartLine Wireless Flange Mount Pressure Transmitters are offered in two different series: the high-performance Series 800 and the high-value Series 700.
Flange mount pressure transmitters allow installation onto a tank flange and thus are offered with a variety of tank connections. Typical applications include high-accuracy level measurement in pressurized and unpressurized vessels in the chemical and hydrocarbon industries.
OneWireless Network
At the heart of Honeywell's approach is the OneWireless Network—the most versatile wireless network. It is the industry's first multiprotocol network supporting the ISA100 Wireless and WirelessHART protocols. Devices from both protocols coexist and are operational in real time together. Additionally, the OneWireless Network further bridges the future with the past in that Wi-Fi- and wired MODBUS-based devices can connect to the network.
Honeywell designed the OneWireless Network so customers can install a single high-performance network for process monitoring that can add more critical applications, like control if desired. The inherent network features permit the OneWireless Network to be ready for control, like offering a scalable wireless infrastructure while maintaining deterministic communication.
Honeywell's SmartLine Wireless Pressure builds upon the previous generation transmitters by offering a ½ second publication rate option and a new anti-aliasing filter option. These transmitters are ready for control. Honeywell customers utilizing XYR™ 6000 wireless transmitters can also painlessly add SmartLine Wireless Pressure to their networks.
What problems does it solve?
Wireless field devices lower the barrier to project ROI justification, speed up the installation process, and get operational faster.
Industrial organizations seeking operational improvement seek new areas for efficiencies or optimization. This leads to re-evaluating areas that were in the past hard to justify financially or physically challenging to access. Wireless field devices solve this problem and can lower the cost and provide an alternate path for instrumentation.
When evaluating industrial wireless offerings, the SmartLine Wireless Pressure products offer significant performance and cost advantages for current and new users of industrial wireless technology:
Providing a robust wireless network with increased power, faster update rates, reduced infrastructure requirements, and broader deployment options
Incorporating additional noise reduction to improve performance in control applications
Simplifying installation and commissioning
Utilizing long-life commodity batteries
Offering the ability to use 24-volt DC power, optionally, in the field
Implementing proven, industry-best cybersecurity
Specifications
SmartLine Application and Validation Tool
The SmartLine Application and Validation Tool helps users get the right instrument for their application. The tool enables error-free selection and validation of the device through efficient online collaboration. The tool documents your selection inputs and helps you share them with others. The ordered instrument arrives fully preconfigured, shortening the commissioning time. Learn more.
Resources & Downloads