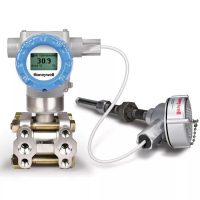 Smartline SMV800 Multivariable Transmitters

The Honeywell SmartLine SMV800 multivariable transmitters are advanced, easy to use, and provide reliable and accurate measurement of direct process variables and dynamically compensated mass or volume flow for gas, steam, and liquid applications.
SmartLine Multivariable Transmitter
The SMV 800 Smart Multivariable Flow Transmitter combines integrated sensor and microprocessor technologies and dynamic flow compensation to produce accurate and consistent flow measurements. The SMV800 comes in four different models.
Features & Benefits
SmartLine SMV800 Multivariable Transmitter
This Smart transmitter measures differential and absolute or gauge pressure from a single sensor and temperature from a standard Resistance Temperature Detector (RTD) or thermocouple. SMV800 uses the measurement of three separate variables to calculate compensated mass or volume flow rate as the fourth variable. The flow calculations are based on industry-standard methods for air, gases, steam, or liquids, e.g., ASME, ISO, AGA, or GOST standards.
Specifications
SmartLine Application and Validation Tool
The SmartLine Application and Validation Tool helps users get the right instrument for their application. The tool enables error-free selection and validation of the device through efficient online collaboration. The tool documents your selection inputs and helps you share them with others. The ordered instrument arrives fully preconfigured, shortening the commissioning time. Learn more.
Resources & Downloads
Applications
Multivariable Transmitters Applications
High-accuracy real-time measurement of both temperature and pressure using the same transmitter.
Boiler measurement
Natural Gas applications
Steam Flow measurement