Trenton Wax-Tape Calculator | Material Requirements
The Trenton Wax Tape Calculator is an excellent tool that saves time and money when determining material requirements for your anti-corrosion coating needs.
About Trenton Wax-Tape
Trenton Wax-Tape coating protects pipelines against corrosion better than paint and does not require the surface preparation demanded by paint or epoxies. The tape uses thick microcrystalline waxes and plasticizers to conform to irregularly shaped surfaces and fittings and is compatible with many materials.
Material Requirements
To determine the material requirements of your anti-corrosion tape and primer, use the Trenton Wax Tape calculator.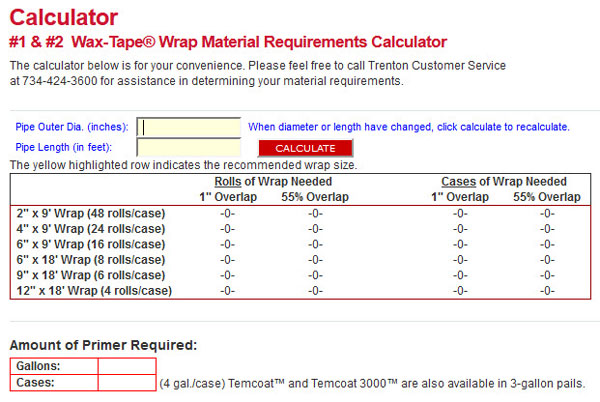 Trenton Corp Distributors
Linc Energy Systems is a longtime distributor of Trenton Corporation anti-corrosion protection products. If you have an application you would like assistance with, call (303) 697-6701. More information can be found on Trenton Corporation or Wax-Tape.