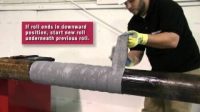 Wax-Tape HT 3000

Trenton Wax Tape HT 3000 is the perfect corrosion protection system for high-temperature pipeline applications.
Trenton Wax-Tape High-Temperature 3000

Trenton Corporation is the manufacturer of Wax-Tape HT 3000, a coating that offers corrosion protection on a metal pipe and irregularly shaped fixtures at higher temperature applications.
Trenton Wax-Tape High-Temp 3000 is an easy-to-apply corrosion protection system and the newest line extension of the Trenton Wax-Tape systems, which have three decades of field performance. It would typically apply in combination with Trenton Temcoat 3000 Primer. It can be used in diverse field conditions, whether pipe, valves or fittings, and whether a bare or coated surface. The product offers the conveniences and usefulness of Trenton's traditional tapes with the ability to withstand much higher temperatures.
Features & Benefits
Oil and Gas Applications at High Temperature
The wax-tape coating is ideal for applications like oil and gas production piping, gas pipeline compressor station discharge piping, refining, and petrochemical process piping, beneath thermal insulation on piping and locations with high temperatures greater than 110 degrees F, though less than 230 F.
Specifications
Product Specifications
The product is non-toxic, easy to apply with minimal surface preparation. It can be applied in high moisture conditions and at in-service temperatures using insulated gloves. There is no cure time so that the location can be backfilled after application. It can be used on aboveground or belowground pipe systems and is UV resistant.
In conditions where the pipe is exposed or requires mechanical protection, applying Trenton's MC Outerwrap on top of the HT-3000 provides additional strength and fast curing. The moisture-cured wrap starts curing when exposed to humidity and creates a durable coating.
Download the Wax-Tape HT 3000 brochure.