Locating Wire Copper-Clad Steel vs Copper | Pro-Line Safety PRO-TRACE
What are the advantages of copper-clad steel vs. traditional copper tracer wire (CCS vs. copper)? Could Pro-Line Safety's PRO-TRACE be the best tracer wire on the market for open trench and directional drilling applications?
What is the purpose of tracer wire?
Tracer wire, alternatively known as locator wire, is used to locate underground nonmetallic pipelines and other utility lines. The most common applications are gas, water, sewer, and fiber optics. It can also be used to mark irrigation systems.
Tracer wire is buried alongside the pipe (or line) during installation. When a need arises to locate the pipe, a signal is attached to the metal wire, which is detected above-ground using a locator (receiver). The locator identifies the same frequency as the signal generated on the wire and pinpoints the location. After the line is marked, pipeline maintenance or digging in the area may begin, as digging around marked lines significantly reduces the risk of damage to the facility and site.
Pro-Line Safety PRO-TRACE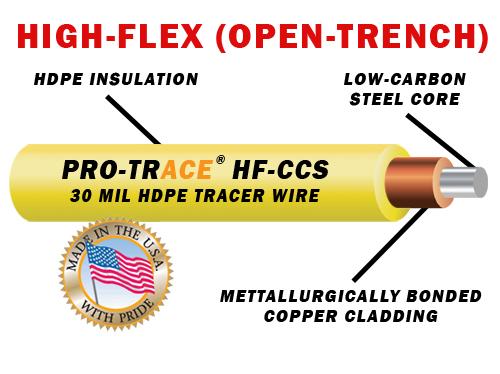 Recently, we announced that we are the national master distributor of Pro-Line Safety Products tracer wire. Pro-Line manufactures copper-clad steel (CCS) tracer wire that is ideal for installing with nonconductive lines like polyethylene (plastic) pipe. We currently stock PRO-TRACE HF-CCS PE30, Pro-Line's highly flexible (HF) product, perfect for open trench applications. Additionally, the PRO-TRACE HDD-CCS PE45 is extra-high strength and ideal for directional drilling applications.
Copper-Clad Steel (CCS) vs. Copper
Both PRO-TRACE products are copper-clad steel instead of the traditional 100% copper wire. This wire consists of a steel core, metallurgically bonded with a copper cladding, forming a corrosion-resistant bi-metal conductor. The corrosion resistance provides an essential advantage to many of our customers. Traditional copper wire has significant drawbacks; a volatile and fluctuating market price of copper, breakage, performance, and theft. The copper-clad alternative offers significant improvements in all these problem areas.
PRO-TRACE copper-clad steel products are more durable, last longer, have significantly less breakage, are far less expensive, and offer significantly better price stability. What more? The product weighs less, so the users save in shipping, and since it contains much less copper, opportunistic thieves are discouraged, which cuts back on vandalism. All around, the CCS tracer wire makes sense.
PRO-TRACE CCS wire is the most durable wire on the market. The highly flexible wire has a 43% higher break load than copper wire and is 7X stronger than traditional copper wire. Both products also meet or exceed the American Society for Testing and Materials (ASTM) specifications, which are requirements of the National Electrical Code (NEC).
With all of these valuable benefits, you can see why we are so excited and have endorsed Pro-Line Safety PRO-TRACE as the best tracer wire!
We stock the Pro-Line tracer wire at our warehouse in Lakewood, Colorado, and ship anywhere in the continental United States.