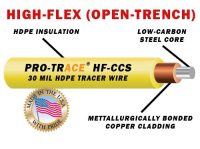 Tracer Wire for Open Trench Applications

Pro-Line Safety Products offers a line of copper-clad steel (CCS) tracer wire under the trade name, PRO-TRACE. The highly flexible copper-clad steel locating wire is used in challenging tracer wire applications, including open trench and directional drilling.
PRO-TRACE HF-CCS Tracer Wire
The PRO-TRACE ™ locating wire from Pro-Line Safety Products is high strength and even extra-high strength to withstand damage from pipe pulling equipment, sharp objects and the elements from a harsh environment.
Features & Benefits
Linc Energy Systems is a national distributor for Pro-Line Safety Products tracer wire.
PRO-TRACE HF-CCS Tracer Wire Applications
PRO-TRACE® HF-CCS PE30 is applied in applications not exceeding 30 volts. The tracer wire is used conductively to locate underground utility lines for the electrical, gas, sewer, telecommunication and water markets.
PRO-TRACE ® HF-CCS PE30 embodies the memory, flexibility and feel of copper. It also has a 43% higher break-load, which minimizes damage during installation and while in service. It is identical to copper in signal racing performance and outperforms copper tracer wire. PRO-TRACE is intended for open-trench and plow-in installations using one wire.
Considerably less expensive than copper with better price stability
RoHS Compliant, made in the USA, and performs with standard connectors
Specifications
Construction for HF-CSS PE 30
PRO-TRACE® HF-CCS PE30 is a flexible, copper-clad steel tracer wire with a low carbon steel core and is metallurgically bonded with uniform and continuous copper cladding, creating a bi-metal conductor that is corrosion resistant. Distinct annealing processes are performed during the coating process making the wire flexible with the feel of copper. The wire is 43% stronger which means fewer breaks than traditional copper tracer wire.

PRO-TRACE® HF-CCS PE30 uses a 30 mil, high-density, high molecular weight polyethylene (HDPE) insulation which provides an outstanding balance of surface smoothness, processing ease and electrical consistency. The HDPE also provides superior strength against underground elements all of which helps prevent accidental breaks caused by rocks in shifting soil conditions.