RhinoDome Utility Marking Posts and Hybrid Rail Product Improvement
Rhino Marking & Protection Systems, the manufacturer of utility damage prevention products, announced some improvements to their Rhino Dome marker posts and Hybrid 3-Rail and 1-Rail pipeline markers.
RhinoDome™ Utility Marking Posts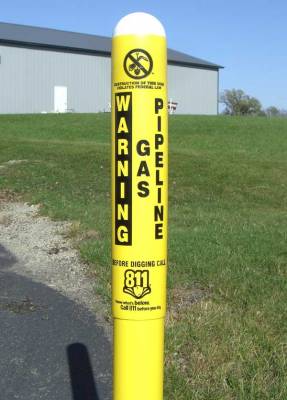 State of the Art Production & Improved Graphics
The new improved RhinoDome is being manufactured at Rhino's hi-tech facility in Waseca Minnesota. The change enables that the posts be more efficiently shipped with other Rhino products and facilitates better quality control to ensure that the markers be made to the customer's specifications.
The RhinoDome graphics are now hot-stamped onto the marker. This process embeds the legend into the marker post, ensuring maximum adhesion and UV resistance. These marker posts can be purchased with generic or custom graphics or decals.
Hybrid 3-Rail and Hybrid 1-Rail Pipeline Markers
The Rhino Hybrid 3-Rail and Hybrid 1-Rail will now be manufactured at the facility in Waseca, Minnesota. Additionally, the posts are now made of an advanced RhinoPoly™. This offers improved UV and temperature stability while retaining sufficient rigidity to ensure that the posts can be driven into hard ground conditions. The markers can be purchased with generic or custom decals and installed on the posts at no additional charge.
Those interested in samples or more information can call us at 303 697-6701.
About Linc Energy Systems
Linc Energy Systems is a representative and distributor specializing in the damage prevention of underground utilities. We have represented Rhino Marking for almost 20 years.