EnCal 3000 Biogas Analyzer by Honeywell Elster-Instromet
Linc Energy Systems is now is an authorized distributor for the Honeywell Elster-Instromet EnCal 3000 Biogas analyzer. This gas analyzer, or a gas chromatograph, is specially engineered for custody transfer of treated biogas.
Biogas Analyzer
In recent years, biogas production has escalated because biogas generation plants have been built all over the world, answering the call for energy alternatives to fossil fuels, as well as CO2 emission reduction programs.
Using biogas as alternative energy is not new. Historically, however, when biogas was a byproduct of operation, the alternative fuel was used as heating fuel for the facility or converted to electric power. What is relatively new is sending the biogas into the gas grid.
To fit the properties of the pipeline gas, however, the biogas requires to be cleaned, and the gas composition needs to change. This upgrading may be performed by blending the biogas with LPG, which integrates compounds such as ethane, propane, and butanes, which are not usually present in biogas. Before feeding the treated biogas into the gas network, the biogas needs to be measured to determine gas properties, such as heating value and density.
Honeywell EnCal 3000 Biogas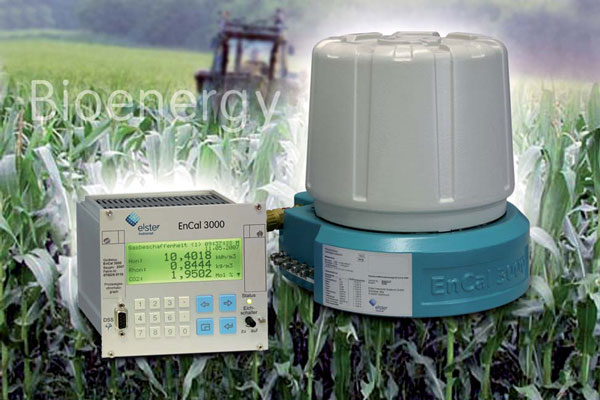 The Elster-Instromet EnCal 3000 gas chromatograph was reconfigured into the EnCal 3000 Biogas analyzer to measure all relevant compounds in biogas. Compounds like H2, O2, and H2S are not usually measured in natural gas heating value determination but measured in the Biogas version of the EnCal 3000.
The EnCal 3000 Biogas uses other analytical columns than the standard model for heating value measurement. The oxygen in the sample must be separated from nitrogen, which is best done using a molecular sieve column. Alternatively, the EnCal 3000 can be used with a second carrier gas, argon. This is required when accurate measurement of the hydrogen concentration in the biogas is needed.
It is essential to monitor the H2S and COS (carbonyl sulfide) levels in the biogas, given that they undermine the integrity of pipelines and downstream instrumentation, especially in the presence of water. The gas analyzer can measure the biogas sulfur-containing compounds with a detection limit of 2 ppm. Additionally, a necessary precaution to prevent damage to the gas chromatograph is to install a moisture and liquid filter at the inlet of the EnCal 3000 system.
To learn more about this new product offering, call us today at (303) 697-6701 or Request a Quote now.