Trenton Patch Pad Protects Pipeline Cadweld and Welds
Trenton Corporation, the manufacturer of Trenton Wax Tape, has recently re-introduced the Patch Pad, a pipeline anti-corrosion material designed to protect a Cadweld and pin brazing weld against corrosion.
What is a Cadweld?
Cadweld is the trade name of an exothermic welded electrical connection developed by Erico. Exothermic bonding is a welding process used to join materials through liquefying metals to connect the conductors. The method requires no external heat or current and relies on a chemical reaction to produce heat.
What is pin brazing?
Pin brazing is a safe and simple method of building electrical connections to steel and iron pipelines which are cathodically protected. The process uses silver soldering through a portable pin brazing unit or gun.
Anti-Corrosion Patch Pad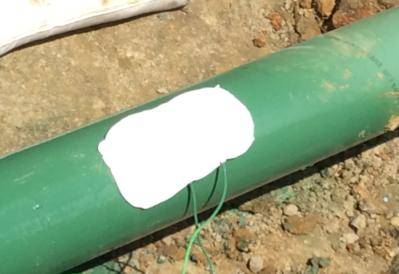 One of the more challenging corrosion prevention hurdles for a pipeline is coating a Cadweld or pin brazing weld. Recently, Trenton Corporation introduced the Patch Pad to accomplish this objective. A user should apply the Patch Pad after the welding process is complete.
The Patch Pad comes in a variety of sizes that enable the user to protect more than one weld per pad. It also can be used in varying weather, including frigid, wet conditions without a primer. It is extremely thick. At 500 millimeters, it is nearly four times thicker than any other method of protecting welds and the Patch Pad has excellent dielectric strength. Additionally, it is extremely flexible and conformable and can be applied to pipes 2″ or smaller.
The Patch Pad is another idea from Trenton Corporation, a manufacturer of anti-corrosion materials, including the Wax Tape.
For more information on the Patch Pad, or if you would like to receive a sample, call (303) 697-6701 or write us.