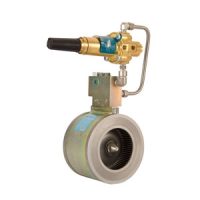 Honeywell American Meter Axial Flow Valve

The Honeywell American Meter Axial Flow Valve is a flexible element valve designed to regulate natural air, gas, carbon dioxide, nitrogen, propane vapor, other non-corrosive gases, and water over a wide range of flow rates.
Honeywell American Meter
The regulator handles inlet pressures of up to 1480 PSIG, and outlet pressures range from 6″ WC to 900 PSIG. It accommodates a wide temperature range (-20°F up to 150°F) with extended ranges available and a maximum flow rate of 39,000,000 SCFH.
Elster previously manufactured this meter. Honeywell acquired Elster is 2016.
Features & Benefits
Applications for this regulator include pressure reduction, pressure reduction/monitor combination, two-stage pressure reduction with control override, on/off control of flow, underpressure shutoff, and flow control. Additionally, the regulator can function as a check valve or relief valve.
Regulator Features
Streamline flow path for quiet operation
2" through 12"
Compact and lightweight
Reversible sleeve
Differential pressure drops up to 1000 PSID
Stainless steel valve cages