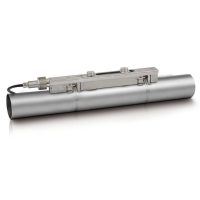 VersaFlow Clamp-on Ultrasonic Flow Meters

Honeywell VersaFlow Clamp-On Ultrasonic flow meter is a process measurement device designed for applications where users cannot cut into the process measurement line to install an in-line meter.
Clamp-on Ultrasonic Flow Meters
The meters are available in configurations for pipeline sizes from 1/2" to 160". The design offers a cost-effective approach to measuring liquid flow through a pipe. This design can withstand up to 392˚F, making the technology ideal for liquids with limited solids or gas content.
The meter mounts on the outside of the pipe, so there is no need to worry about process material compatibility or pipeline pressure.
Features & Benefits
VersaFlow Sonic 1000 Clamp-on Flowmeter Features
Minimized uncertainty
Optimized reliability
Minimal maintenance
Efficient regreasing concept
Easy sensor mounting
Installation wizard
X-mode dual path sensor option
Advanced Diagnostics
Applications
Clamp-On Ultrasonic Meter Applications
Media: Process Liquid
Chemical addition
General process control
Cooling water circuits
A broad range of refined hydrocarbons
Potable water
De-ionized and demineralized water
Sanitary flow rate measurements
Leak detection
Acids and corrosive chemicals
Purified water
Heat consumption/energy measurement
Industries Served
Industries
Chemicals
Petrochemical
Power Plants
Water
Oil & Gas
Semiconductor
Food & Beverage
Pharmaceuticals