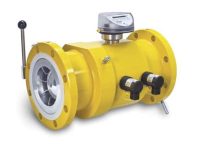 Honeywell TRZ2 Turbine Flow Meters

The Honeywell Elster turbine meter TRZ2 is for fiscal and non-fiscal applications of measuring natural gas. The gas meter is a custody-transfer approved by PTB and NMI.
Turbine Meters
The Honeywell Elster turbine gas meters are accurate and reliable for measuring the gas in gas distribution and transmission, industrial plants, and business operations. The Elster TRZ2 is available in sizes 2-6 inches and pressure classes up to ANSI 600. For sizes above 6," Honeywell offers the SM-RI-X turbine meter which is available up to 24″.
Features & Benefits
Features and Benefits
The patented Honeywell Elster metering cartridge permits repeatable measurement even under imperfect inlet flow conditions. Additionally, having the cartridge can significantly reduce service time in the field. Due to its design, ambient temperature changes have minimal effect on the meter's performance as the cartridge is separate from the meter body.
Model Specific
Patented measuring cartridge
Aluminum flow straightener
Meter sizes G65 to G1000
Maximum Measuring Range 5 to 1600 m3/h
Nominal diameters DN 50 to 150 (2" to 6")
Other
MID approval for fiscal measurement
Conformity to EN12261, PED, ASME, ATEX, and IECEx
Lowest measurement uncertainty
High repeatability
Operating pressure from 0 to 100 bar
Flange rating in PN 10-100 and ANSI 150-600
Temperature Range: -13 °F to +158 °F
Compact installation with inlet pipe length L ≥ 2 DN
Designed for natural gas, town gas, butane, air, nitrogen, other gases on request
* DN 50/2" without patented flow straightener (inlet pipe length L > 5 DN required)
Options
Thermowell built into meter housing
Integrated HF-pulser
Absolute ENCODER
Direct mount of Honeywell Electronic Volume Corrector
Applications
Applications
Custody Transfer (approved for gas flow measurement for low to high operating pressures)
Gas distribution, industrial, and commercial uses