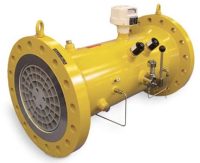 Elster Turbine Gas Meters SM-RI-X

Honeywell Elster turbine gas meters, model SM-RI-X, are turbine flowmeters for fiscal and non-fiscal applications of natural gas. The turbine gas meter is a custody transfer approved by PTB and NMI.
Turbine Meters
The Honeywell Elster® turbine gas meters are accurate and reliable for measuring the gas in gas distribution and transmission, industrial plants, and business operations. The Elster SM-RI-X is available in sizes 8-24 inches and pressure classes up to ANSI 600. For sizes 2-6," Honeywell offers the TRZ2 turbine meter.
Features & Benefits
Features and Benefits
Model Specific
Utilized as a reference meter in major calibration establishments
Maximum Measuring Range 50 to 25,000 m3/h
Meter sizes G650 to G16000 (SM-RI-X)
Nominal diameters DN200 to 600 (8" to 24")
Other
MID approval for fiscal measurement
Conformity to EN12261, PED, ASME, ATEX, and IECEx
Lowest measurement uncertainty
High repeatability
Operating pressure from 0 to 100 bar
Flange rating in PN 10-100 and ANSI 150-600
Temperature Range: -13 °F to +158 °F
Compact installation with inlet pipe length L ≥ 2 DN
Designed for natural gas, town gas, butane, air, nitrogen, other gases on request
Options
Thermowell built into meter housing
Integrated HF-pulser
Absolute ENCODER
Direct mount of Honeywell Electronic Volume Corrector
Applications
Custody Transfer (approved for gas flow measurement for low to high operating pressures)
Gas distribution, industrial, and commercial uses