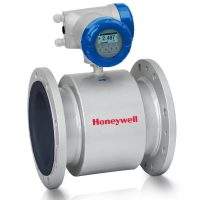 VersaFlow Magnetic Flow Meter

Honeywell VersaFlow Magnetic Flow meters are highly versatile and customizable and offer precise flow measurements for conductive liquids, pastes, and slurries.
VersaFlow Magnetic Flowmeter

VersaFlow Magnetic flow meters (mag flowmeters) are process measurement devices used in commercial, industrial, and manufacturing operations where production efficiency and end-product quality depend on measurement accuracy. VersaFlow accommodates small to large line sizes, from the simplest to the most demanding applications.
Features & Benefits
Honeywell VersaFlow Flowmeters
The product is available in four variants:
VersaFlow Mag 4000 is an electromagnetic flow meter with a robust sensor designed for the most demanding industrial applications for the process industry.
VersaFlow Mag 1000 is an electromagnetic flowmeter designed for water and wastewater applications. The model's long-term reliability and durability make it the standard flow sensor for the water market.
VersaFlow Mag 100 is an economical electromagnetic flow meter for various applications (including aqueous solutions).
VersaFlow Mag 3000 is an electromagnetic flow sensor for the food and beverage industry that meets FDA requirements.
Electromagnetic Flow Meter Features and Benefits
Proven technology
Expanded application capabilities
A wide range of process conditions
Sizes to fit your application requirements
Chemically resistant to acids and alkalis
Conductivity down to 1 μS/cm
Virtual reference ground
Conductivity and electrode resistance measurement
Easy to select and maintain
Empty pipe detection
Electrode noise detection
Modular electronics concept
Easy to install and operate
Specifications
Mag Flowmeter Specifications
Applications
VersaFlow Magnetic Flowmeter Applications
Suitable for all conductive applications
From clean liquids to slurries and pastes with a high solids content
Abrasion, chemical, and vacuum resistant
Suitable for high temperatures
Energy measurement in commercial buildings