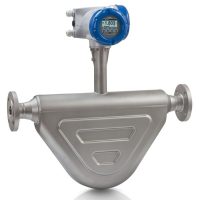 VersaFlow Coriolis Flow Meter

Honeywell VersaFlow Coriolis flow meter measures mass flow, volumetric flow, density, temperature, mass or volume concentration, and solids content and optimizes productivity for process measurement with a single device. It is a high-performance meter designed to meet the requirements of liquids and gas applications with wide operating temperature and pressure ranges.
VersaFlow Coriolis Mass Flow Meter  
VersaFlow Coriolis devices are available in straight and bent tube designs with straight measuring tubes in either Hastelloy, titanium, or stainless steel.
Honeywell offers four versions of the VersaFlow Coriolis Mass Flow sensor: Coriolis 6000, Coriolis 1000, Coriolis 200, and Coriolis 100, addressing users' needs ranging from small to large lines. The meters are available in bent and straight tube designs, serving the simplest to the most demanding applications.
Features & Benefits
Honeywell VersaFlow Flowmeter
Combined with the TWC9400 converter, the VersaFlow Coriolis meters can be entrained gas measurement (EGM) to overcome problems caused by air or gas entrainments in a liquid.
VersaFlow Coriolis 100 Mass Flow Sensor is the universal solution for the process industry having secondary pressure containment as standard. VersaFlow reliably measures the mass flow of liquids and gases, concentration, and density of liquids.
VersaFlow Coriolis 200 Sensor for mass flow meets the demand of the oil and gas industry and is well suited to bulk measurement in many applications. When including the option of Super Duplex, the meter achieves a maximum operating pressure of 180 barg, making it suitable for the bulk measurement of petroleum and oil and products like syrup, molasses, and raw chemicals.
VersaFlow Coriolis 1000 Sensor for mass flow is the only mass flow sensor with a straight measuring tube available in stainless steel, Hastelloy®, titanium, or tantalum.
VersaFlow Coriolis 6000 Sensor for mass flow is the ideal choice for mass flow measurement in liquid and gas applications, particularly in high or low-temperature applications. The 6000 operates at temperatures up to 752°F and as low as -328F. In the latter case, the VersaFlow Coriolis 6000 is ideal for liquid natural gas (LNG) and cryogenic applications.
VersaFlow Coriolis Meter Features and Benefits
Direct mass and density measurement
Highly accurate and low-pressure drop
Flow conditioning is usually not required
Reduced maintenance time and cost
Straight and bent tube designs
Secondary pressure containment around the sensor
Two-phase flow indication & diagnostics acc to NAMUR 107
Near zero flow rate
Designed for liquid as well as gas applications.
Extended temperature & pressure ranges
Easily drained and easy to clean
Excellent zero stability
Stable measurement even with 100% gas entrainment
Immunity to crosstalk
Compact envelope
Applications
VersaFlow Coriolis Applications
Liquids or Gases
Slurries or Viscous products
Liquids with gas entrainment
Custody transfer
Abrasive fluids
Density, temperature, and concentration measurement