TriView Pedestal Utility Marker for new installations or restoration
The Rhino Pedestal Utility Marker is an innovative method that offers 360-degree visibility to existing pedestals needing sign restoration or new utility pedestal installations.
The Problem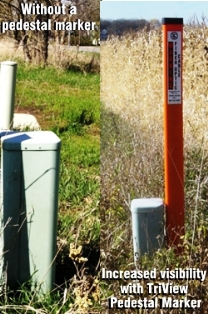 Utility pedestal installations are routinely lost in overgrown vegetation. If the utility is not noticeable, there is a real concern when maintaining or excavating the area.
The Solution
A common solution in the industry has been to install u-channel posts with signs beside the pedestal or even fiberglass posts that commonly fade. The Rhino TriView Pedestal Marker can be used on new installations or upgrading insufficient signage on existing installations.
By installing the no maintenance TriView Pedestal Marker beside the pedestal, its bright colors and design offer 360-degree visibility and become a clear improvement to bring attention to the pedestal, ensuring it is less likely to be damaged.
For upgrading existing installations, the TriView Pedestal Marker can be inserted over the existing posts, while for new installations, the posts can be driven into all soil conditions.
Rhino Pedestal Utility Markers
The TriView Pedestal Marker is impact-resistant, flexible, durable, and can withstand repeated crashes. The bright colors will not fade in the sun as it has UV stabilizers and is stable in temperatures ranging from -30F to 150F. The posts come in various colors (yellow, white, orange, blue, green, red, purple, and brown), and the standard decals can be used to alert excavators to call before digging.
To demonstrate how durable the TriView Marker is, take a look at this quick video.
TriView Impact Video
TriView Impact from Rhino Marking & Protection on Vimeo.
The Rhino TriView is manufactured by Rhino Marking & Protection Systems, a leader in the damage prevention industry. Rhino provides innovative marking products to protect underground utilities, people and the environment. The company revolutionized the industry when introducing the TriView marking post in 1997, which offers 360-degree visibility. Other new product offerings by Rhino include Rhino HideOut and RhinoDome Wrap.