Sage Prime Thermal Mass Flow Meter Now Even More Powerful!
Sage Metering, the manufacturer of the award-winning Sage Prime thermal mass flow meter, has just released the Sage INSIGHT, proprietary software that makes their flagship meter even more powerful.
Sage Prime Thermal Mass Flow Meter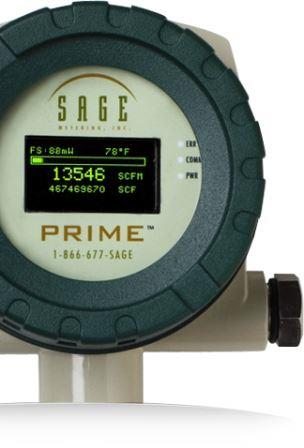 The Prime® is a precision thermal mass flow meter that measures gas mass flow. It is Sage Metering's flagship product and offers all the features expected in its class, and then some. The meter is ideal for various industrial, commercial and environmental applications that require accurate natural gas, biogas or propane gas mass flow. The meter has exceptional low flow sensitivity and high rangeability.
It was the Prime that made Sage Metering the pioneer of the in-situ calibration check. That was the first time a meter of this type was able to do an in-the-field verification that the meter is working within its factory calibration, and the sensor is clean. This feature has opened up new opportunities for the use of thermal mass flow meters, particularly in applications involving GHG emissions reporting because federal regulations require routine calibrations of flow meters. Unfortunately, it is expensive to shut down gas service, remove meters from the field and send them to third parties or the factory for calibrations. The ability to verify calibration solves this issue.
Sage Metering INSIGHT
INSIGHTTM is Sage Prime's new validation and configuration software. It replaces its predecessor, the Addresser. The software permits the maintenance manager to verify that the meter is accurate, in calibration and performing as new in only minutes. It also allows the user to create reports on the fly for internal documentation or regulatory agencies.
If you would like more information on the Sage Metering thermal mass flow meter, call us today at 303 697-6701.