Pipeline Patrol for Wyoming Natural Gas Transmission Company
Linc Energy systems not only sells leading products to the natural gas industry, but we also have a reputable service division devoted to pipeline patrolling to help keep our clients in compliance with DOT/PHMSA regulations. Recently we conducted a patrolling project and this post shares some of the key insights on the project that are helpful to patrolling technicians.
Patrolling regulations
DOT/PHMSA compliance
Pipelines safety
Pipeline preventative maintenance
Wyoming Pipeline
The DOT/PHMSA requires pipeline owners to maintain their natural gas pipelines and patrolling is mandatory for transmission pipelines at intervals depending on many aspects, including class location. For more information on the regulations, visit Patrolling Regulations.
Recently a Wyoming natural gas transmission company reached out to us when their contractor at the last minute backed out of their patrolling job, and the company had a looming compliance deadline. The gas transmission company retained Linc Energy Systems to patrol, leak survey and perform cathodic protection testing for a 40-mile stretch of pipeline that included sections of pipe that had not been patrolled before.
Patrolling Technician Observations
Identifying abnormalities on the pipeline and its right-of-way is essential during a patrol project because even minor anomalies can lead to exposure of the pipe to the atmosphere from regular settlement and weather. The right-of-way is a strip of land on both sides of the pipeline that is an easement for the pipeline owner to operate and maintain the gas line.
Irregularities the patrol technician should check for on the pipeline and right-of-way include:
Dead and discolored vegetation
Exposed pipe
Sunken backfill
Right-of-way encroachments
Indication of heavy traffic through the right-of-way
Erosion
Broken terraces
Excavation or construction on or near the right-of-way
Wyoming Pipeline Patrol
Our job as the patrol contractor was to find and report any abnormalities along the right-of-way of the pipeline. During this project we surveyed the vegetation, searching for irregularities, especially discolored or dead vegetation. Where we were unable to drive, we walked treacherous terrain and inspected for erosion and settlement and the other anomalies previously referenced. When abnormalities were discovered, we used leak detection equipment to assure that no hydrocarbons were identified above ground, or coming from the potholes or sinkholes.
Key Findings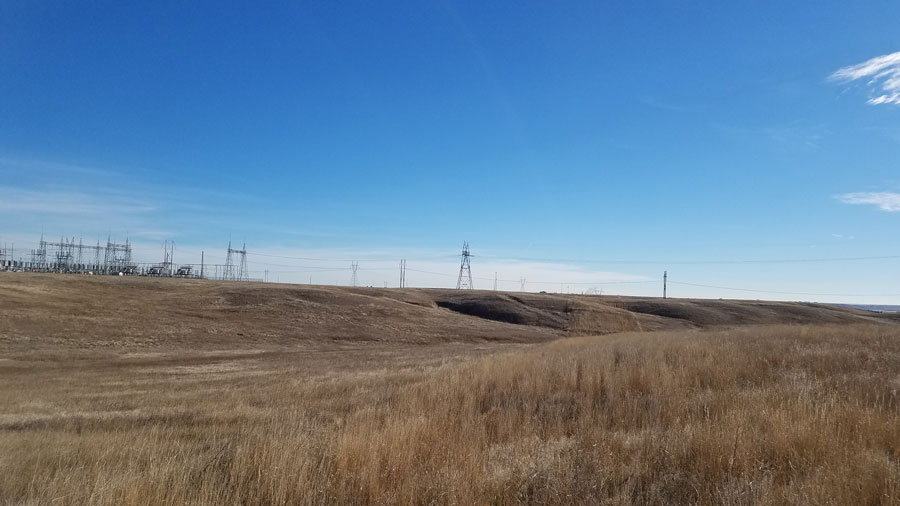 For the 40-miles of the pipeline, we identified each irregularity by station numbers and delineated actual locations on a map for the client to return to and decide upon the proper course of action.
While there were no leaks observed on this Wyoming pipeline, there were numerous settlement locations from two earlier rainy seasons. One section of the pipeline demonstrated significant erosion and settling, as much as 18″, and the pipeline was five feet deep. It is likely that this sinkhole can become a settling problem with winter frost and heavy rains.
We also noticed some difficulties in spotting pipeline markers. Ranchers and pipeline crews need to be able to follow the pipe. In some areas, we needed to have the customer scope the pipe to assure that we gave pinpoint accurate results. Line-of-sight placement is a simple method of installing markers in a way that an individual standing at one marker can see the next marker even if he is in a valley or cove. Line-of-sight placement is an industry best practice.
During the patrol, we crossed interstate highways, county roads, city roads, and railroad crossings. At these junctures, we exercised considerable discretion to walk them and assure no irregularities occurred.
At areas where the pipe came out of the ground and at regulator stations, we inspected it for atmospheric corrosion, scratches or other damages from construction. There were several locations with rust and other abnormalities which could cause corrosion and the pipe to be exposed to rain or snow.
Recommendations
To finish the project, we provided the client with a detailed report identifying all minor and critical areas requiring remediation, including their locations. For severe areas, we also provided photographs to convey the degree of seriousness.
Additionally, we recommended that the client improves their line-of-sight pipeline marker placements.
Patrol Technician Suggestions
A good patrol technician will go above and beyond the regulations and identify both minor and major irregularities. This provides the client recommendations for preventative maintenance, and potentially avoid a catastrophic incident.