ECSI Riser Support Brackets

Since 1973, ECSI or Energy Control Systems Inc. has manufactured a wide range of fabricated piping products, including meter brackets and prefabricated meter bends. The Pittsburgh-based company was founded by the Royston family who has served the natural gas industry since the company began. The company operates out of a 45,000 SF facility in western Pennsylvania.
ECSI Meter Brackets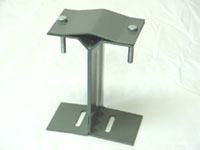 ECSI's riser support brackets or meter brackets have been used in the gas industry for nearly three decades.ECSI's riser support brackets have been used in the gas industry for nearly three decades. The company provides over forty different bracket designs and drive stakes to support gas risers, meter bars or prefabricated meter bend assemblies. For more information, see Meter Brackets.
Distributor for ECSI
Linc Energy Systems is a distributor for Energy Control Systems Inc., a/k/a ECSI, since 1990.
While visiting our website take a look around at some of our other products we represent. We partner with the finest manufacturers and serve the Rocky Mountain States and surrounding areas including Arizona, Colorado, Idaho, Montana, Nebraska, New Mexico, portions of Texas, Utah, Western North Dakota, Western South Dakota, and Wyoming. We have sales offices in Denver and Salt Lake City.
Since 1990, Linc Energy Systems has been a reliable source for products and services. We're a woman-owned business providing solutions to various industries as a manufacturers' representative, distributor, and contractor. We specialize in measurement and control, damage prevention and offer a broad variety of industrial gas products to the natural gas industry, as well as industrial, commercial and government entities serving the same and related markets.