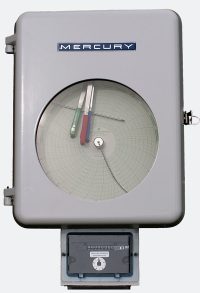 Pressure Recorder

The Honeywell Mercury pressure recorder is available in 8-inch and 12-inch charts for pressure ranges of 0-10″ water column to 0-5000 PSI.
Pressure Recorders
Honeywell Mercury Pressure Recorders are available in 8-inch and 12-inch chart recorders for pressure ranges from 0-10 inches of water to 0-5,000 pounds per square inch. Vacuums to 30 inches of mercury are also available.
Up to three pens can be installed in either the 8-inch or 12-inch recorder. Calibration to metric units of pressure can be made. Pressure recorders come in-wall, flush, pedestal, or pipe-stand mount and also portable configurations.
Features & Benefits
Pressure Recorders
Each pressure element is manufactured by Mercury Instruments to precise specifications using the highest quality materials, beryllium copper or 316 stainless steel. Each element deflects 22 1/2 degrees for the design range, is carefully made, heat-treated and cold-worked to remove all hysteresis. The accuracy of each pressure recorder is +/-1/2 chart graduation.
Specifications
The valve and test fitting is provided with each pressure element. Solid door, tamper-proof case, and double-latch bar with padlock-type handle are also provided (811-S and 812-S have clasp closure for the padlock).
800 series recorders use an 8-inch diameter chart, 6 3/8" arch radius.
700 series recorders use 12-inch diameter chart, 9 7/16" arc radius single-pen, or, in some models, the 8-inch chart, 6 3/8" arc radius two-pen.
1200 series recorders use 12-inch Mi chart, 6 3/8" arc radius.
Note: Recorders can also be calibrated to a 10-inch diameter chart and another arc radius.
Replacement Charts are also available.