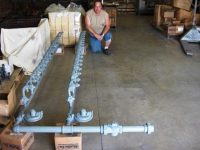 Meter Sets and Manifolds

Reliable Manufacturing produces the premier natural gas meter manifold, prefabricated meter sets, meter stations, meter bends, and gas meter adapters
Natural Gas Manifolds and Meter Set

We offer a variety of meter-set hardware products from Reliable Manufacturing.
Meter manifolds
Prefabricated meter sets
Meter bends
Meter adapters
Meter posts
Features & Benefits
Natural Gas Meter Set Hardware
Reliable Manufacturing Company is a woman-owned, Carroll Ohio-based company which manufactures fabricated steel meter-set hardware. The operating officer has been fabricating natural gas meter sets for over 25 years, making him a pioneer in this field. The company strives to provide reliable delivery, excellent quality, advanced corrosion protection, and offers innovative solutions by customizing meter sets to meet customer needs. Some of their products include gas meter manifolds, prefabricated meter sets, meter stations, meter bends, and gas meter adapters.