Operator Qualification Training
Linc Energy Systems offer Operator Qualification Training (OQ) to certify pipeline operators and contractors and help our customers get PHMSA compliant.
OQ Training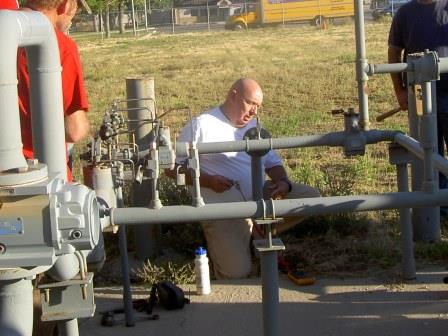 Operator Qualification TrainingOperator Qualification Training (OQ) is enforced through current pipeline safety statutes. To ensure the safe transportation of hazardous liquids and gases through pipelines, operators must be qualified according to the PHMSA (Department of Transportation), and the burden of qualifying pipeline operators falls on private pipelines and pipeline contractors.
Our courses offer a sufficient balance between hands-on and classroom instruction. The classes are designed to expose our students to sound natural gas pipeline activities. Led by our senior instructor, Wes Whitley, we certify pipeline operators and contractors to make their business compliant with PHMSA's training requirements.
Custom OQ Class
In our operator qualification class, our instructor (or instructors) travels to our client's site at a mutually agreeable time. The client can customize the curriculum to their needs. Clients select the course topics, and Linc Energy Systems will teach your operators at your designated location.
For more information on our other services, which include corrosion protection services, advanced metering installation and repair, meter repair, operator qualification training, pipeline maintenance and operations, and other utility services, visit utility contractor.
Course Objectives
After Linc Energy Operator Qualification training, students will:
Recognize and identify safe pipeline activities as related to their responsibilities.
Perform their assigned tasks in an industry-recognized correct method.
Recognize and respond appropriately to abnormal operating conditions.
Recommended Course Topics:
Corrosion Control
Leak Detection
Pipeline Repair
Pressure Regulators and Relief Devices
Gauges and Charts
Locating Underground Facilities and Tracer Wires
Valve Maintenance
Purging of Pipelines
Patrolling & Continuing Surveillance
Abnormal Operating Conditions
Text and Required Supplies:
Required text: Operator Qualification Phase 1 (provided)
Supplies: Pencils, pens, and highlighters are recommended for class success
Students are encouraged to bring equipment they have questions about, such as valves, regulators, and other small items. Please do not bring items saturated with odorant.
While we guarantee our students will be introduced to the appropriate information required to train on each topic, a passing score of 70% is required for certification. Additionally, 100% attendance is required.
Linc Energy Systems' Operator Qualification program offers our clients peace of mind by assuring their employees are trained to the specifications driven by PHMSA (Department of Transportation). While we may certify that the operator has been trained, it is the client who qualifies the operator.
Related Articles:
What is Operator Qualification Training?
To ensure the safe transportation of hazardous liquids and gases through pipelines, operators must be qualified. Private pipelines are responsible for operator qualification.