American Gas Safety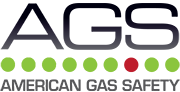 American Gas Safety (AGS) is the manufacturer of the Merlin utility controller, detection panels, and gas sensors. AGS has almost 40 years experience in developing systems that detect gas leaks, carbon monoxide, natural gas, and LPG. The systems are in commercial buildings, commercial kitchens, and laboratories, whether secondary schools, colleges, universities or even corporate research centers.
AGS products have UL and CE approvals and are found in most countries worldwide. They also meet and exceed NFPA & ICC standards.
Utility Controllers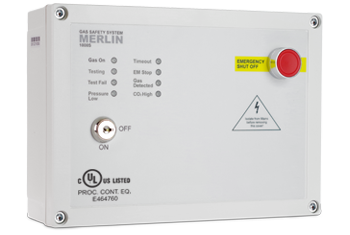 American Gas Safety manufactures the Merlin utility controller and sensors for commercial kitchens and laboratoriesThe AGS gas shut-off systems provide teacher control, protect the building after hours ensure the safety of employees, children, and students. The systems are the smart alternative to the ISIMET utility controller. There are four main categories of laboratory utility controllers:
Laboratory Control
The Merlin 1000S Range is ideal for schools, colleges, and university laboratories. The control panel gives the teacher full control of the utilities in the classroom, providing inbuilt safety functions to protect the teacher, the class, and the students. Learn More>
Fire & Environment Safety
The Merlin GSP Gas Detection Panels can be customized using a range of detection sensors, permitting the units for use in factories, boiler houses, and care homes. The items can also be linked to existing fire alarms and building management controls.
Kitchen Interlock
The AGS Kitchen Interlock Range protects the staff of commercial kitchens from gas leaks and carbon monoxide poisoning. It ensures the gas solenoid valve cannot be opened in a kitchen until the fans connected to the panel are operating. The units also include built-in connectivity for ancillary components and systems.
Sensors
AGS manufactures a line of gas detectors. Whether detecting carbon monoxide, natural gas, LPG or carbon dioxide, AGS sensors use modern digital design and do not need on-site calibration or end-user set up, saving time and money.
Merlin Flush Mounting Kit
The Merlin Mounting Kit (MK) permits a flush mounting for the Merlin Gas Control Panel enclosure in classrooms and commercial kitchens. The space pressure reference port eliminates drilling separate holes and running tubing long distances. The Merlin MK comes with eight pre-drilled holes perfectly located for easy mounting and cuts installation time in half, and an aesthetically appealing unit emerges. The mounting kit is made of steel and finished in white and complements the Merlin control boxes.
American Gas Safety Distributors
Linc Energy Systems is an authorized American Gas Safety distributor. We represent AGS in the Rocky Mountain States (Colorado, Utah, Wyoming, Montana, Idaho, Nevada, New Mexico, and Arizona).