Natural Gas Measurement, Control, and Odorization Log
We provide insights into natural gas measurement, control, odorization, and various natural gas products.
Why are regulators used in natural gas distribution?
In this back to basics entry, I discuss why natural gas pressure regulators are used in a delivery system.
After natural gas makes its way out of the well, into gathering and transmission systems, and gate stations, it ultimately enters distribution lines (or "mains").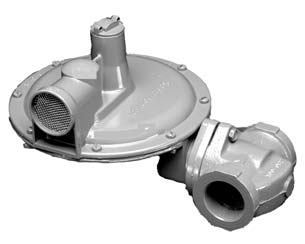 B31 residential regulator
While gas is in the distribution system, regulators control the flow from higher pressure to lower pressure. Regulators sense if the pressure in a line drops below a specified set point and opens, allowing more gas to flow. On the other hand, if pressure rises above a set point, the regulator will close so that the downstream pressure adjusts.
When natural gas leaves the main, it travels through a "service line" to reach homes or businesses. This service line is likely to be polyethylene, perhaps an inch or less in diameter and ranges from about 60 PSI to ¼ PSI. Once the gas reaches the home or business meter, it passes through another regulator to reduced the pressure under ¼ PSI and is measured in water column.
Throughout the gas delivery system, from the well to the stove burner, regulators are used to adjust the pressure to ensure safety.

Trackback URL for this blog entry.