Natural Gas Measurement, Underground Utilities and More Blog
We provide insights on natural gas measurement, underground utility damage prevention, utility contractor services and various natural gas products. Formerly the Linc Energy Blog.
Ultrasonic Gas Meter | Itron OpenWay Riva Intelis for Residential Use
Linc Energy Systems is now a distributor for the Itron OpenWay Riva Intelis residential ultrasonic gas meter. The Intelis revolutionary design shifts the gas distribution network from being a one-way gas delivery mechanism to an interactive energy network that delivers gas more safely and efficiently.
Itron Intelis Ultrasonic Gas Meter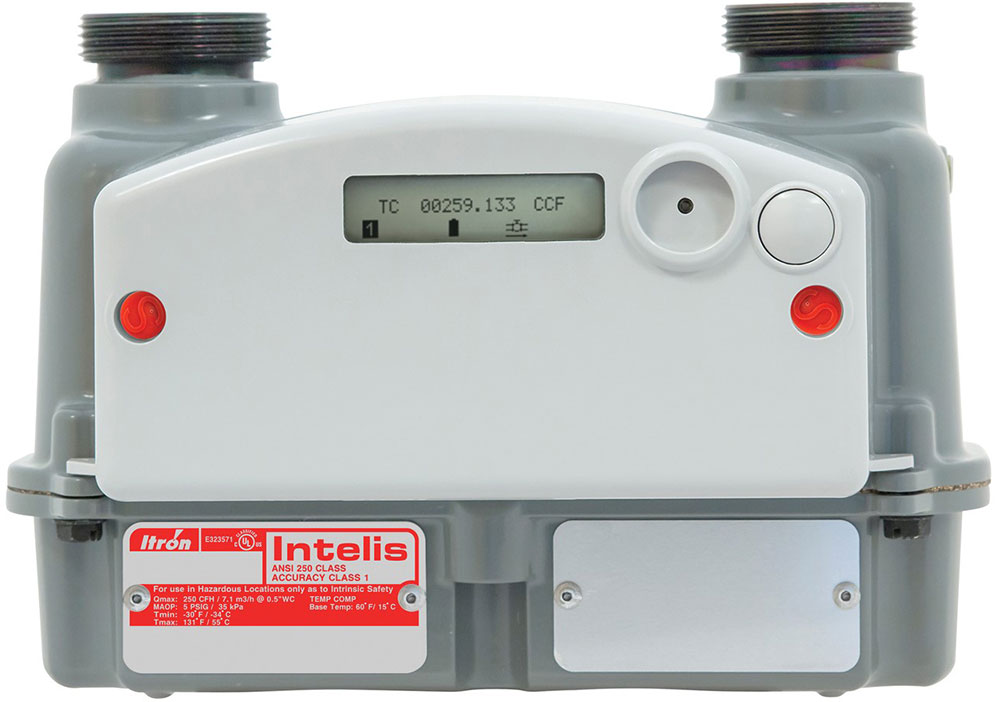 The Itron OpenWay Riva Intelis ultrasonic smart gas meter is revolutionizing residential natural gas measurement. The OpenWay® Riva Intelis is an ultrasonic gas meter designed to enhance safety and operational efficiency by embedding communications and a safety shutoff in a compact smart gas meter. The meter is only 4.5 pounds, making it the lightest and most compact 250 SCFH residential gas meter on the market.
The Intelis gas meter has the most stringent UL rating of CL I Div 1. Intelis was designed with a traditional die-cast aluminum case with a powder-coat finish to withstand outdoor elements. A pressure tap is standard on the outlet of the meter. The hub center-to-center distance is 6 inches matching standard residential diaphragm meter sets. Additionally, the hubs are the same as today's diaphragm meters, making meter change outs quick and easy and not requiring retrofits.
Residential Gas Meter Benefits
There are multiple benefits to this ultrasonic residential gas meter, including improved safety, operational savings, and system integrity to name a few.
Safety
With safety in mind, the meter was designed to minimize incidents that impact utility workers or the public well-being. The OpenWay Riva Intelis enables timely shutoff at all service points. The meter has a built-in high flow alarm and a temperature sensor that can detect potentially dangerous conditions, such as a fire or open fuel lines, in which case the meter automatically triggers a shutoff. The meter also has an air detector which senses if the meter is removed, prompting the option to shut gas flow, while sending an alarm to utility personnel. This proactive approach should curtail dangerous incidents before they occur.
System Integrity
While the standard protocol to monitor a gas system integrity has been to analyze large volumes of data, the OpenWay Riva combines the data from multiple devices such as cathodic protection modules, methane, and pressure sensors, and others across the entire gas distribution system in real-time, giving the information on demand. This system integrity enhances the level of service and safety for the customers.
Operational Efficiency
The Intelis reliably collects data from the sensors and meters across the gas distribution network which identifies and locates issues without even dispatching a truck. This approach permits the operator to improve operational efficiency.
Intelligent Incident Response
The devices distributed across the network allow the operator to pinpoint a location of an incident and respond rapidly. The real-time data can help identify and respond to potential problems before they become unsafe.
Regulatory Compliance
Since the data is available on command, the utility company can accurately and reliably report on pipeline conditions daily. The operator may use the timestamped information to comply with sustainability and other reporting requirements efficiently.
Revenue Protection
Through differential comparative analysis, utility personnel can detect losses, including leaks and theft. Analytics gathered across the system correlate events logically so that specific, detectable patterns of consumption and behavior point out suspicious or inappropriate usage.
Consumer Engagement
Data availability means customers may access personal consumption information, allowing them to set goals, monitor usage, participate in sustainability initiatives and be alerted to anomalies. Consumers aware of their use are more engaged and more likely to pay their bills.

If you would like more information on the Itron OpenWay Riva Intelis gas meter, submit your request now.
Trackback URL for this blog entry.