Natural Gas Measurement, Underground Utilities and More Blog
We provide insights on natural gas measurement, underground utility damage prevention, utility contractor services and various natural gas products. Formerly the Linc Energy Blog.
Telescoping Sampling Rod for the GAZOMAT INSPECTRA LASER
GAZOMAT™ has introduced a new telescoping rod which permits the Inspectra Laser to sample just about any field configuration, making the methane gas leak detector even more powerful.
GAZOMAT INSPECTRA LASER Detector
The GAZOMAT™ INSPECTRA® is a portable, high-performance methane gas detector that quickly and precisely measures methane gas. This natural gas leak analyzer uses laser spectroscopy.
GAZOMAT designed the Inspectra Laser for gas leak detection of natural gas distribution systems. The technology permits measuring areas with 1 ppm to 100% gas volume. This unique feature enables the Inspectra Laser to cover the various aspects of the detection process, from leak detection, locating, and quantification typically covered with several devices.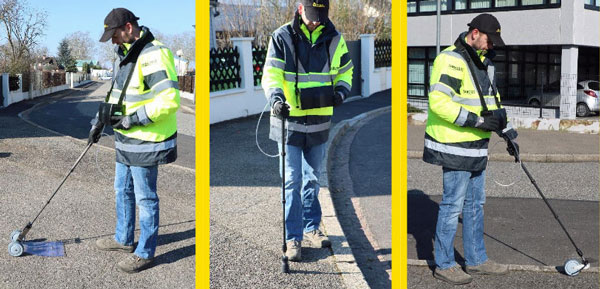 Three sampling modules
Telescopic Rod Offering Three Sampling Modules
The new telescopic rod sampling device is ruggedly made of reinforced carbon, yet lightweight, with robust locking rings. The rod has ease of handling, trouble-free operation, and intended for daily use. It is highly modular in design, compact, offering flexibility and versatility to meet most sampling needs. The rod has a quick-connect coupling permitting quick and easy connection to any of the three sampling modules to fit any field configuration.
A suction cup probe provides an effective seal to the ground extending focused sampling operations. This sampling module is ideal for on-foot survey applications of utility hole covers, service boxes, valve boxes, gas vents, overhead pipelines, flanges, and other components.
A single-wheel probe with sampling tubes on two sides of the wheel. The design offers maneuverability for pedestrian or on-foot surveys over long distances. This sampling module allows the technician to cover larger sampling areas. The module includes an integrated dust filter.
A gas trap trolley probe is ideal for gas leak detection in windy areas and over longer distances. The module is set up with two wheels and designed for no sample loss or dilution of air.
For more information, read Inspectra Laser, or message us below.


Trackback URL for this blog entry.