Natural Gas Measurement, Underground Utilities and More Blog
We provide insights on natural gas measurement, underground utility damage prevention, utility contractor services and various natural gas products. Formerly the Linc Energy Blog.
Pipeline safety: simple ways to promote damage prevention
Why risk the lives of workers, or damage to the environment or incur litigation costs and penalties, when there are simple ways to promote damage prevention of your pipeline?
According to the Office of Pipeline Safety, the single greatest cause of accidents among natural gas distribution and transmission lines is digging by third party excavators.1 The PHMSA's (Pipeline and Hazardous Materials Safety Administration) website also suggests "a major cause of pipeline accidents is careless digging."2
In June of this year, there were two back-to-back accidents in Cleburne and Darrouzett, Texas, where third party excavators damaged natural gas lines resulting in a rupture and explosion. Many were injured and three people died. In both accidents the pipelines were not clearly marked. At the Johnson County incident, there was only one permanent pipeline marker and it was about a quarter of a mile away, obscured by high vegetation. Enterprise Pipeline, the owner of the pipeline was found to be in violation of six pipeline safety rules and fined $120,000.3
The AGA (American Gas Association) states that the Natural Gas Industry spends in excess of six billion dollars each year in safety programs which include: 811 or "One-Call" program, marking pipelines, inspections and awareness. Yet, with all the programs and precautions taken, it comes down to one thing – pipeline safety begins with visibility. If you can see it – it's more likely you won't hit it and you'll avoid an incident.
Improve visibility of pipelines to promote damage prevention

Keeping visibility in mind, there are some simple and relatively inexpensive ways to promote damage prevention of pipelines by improving the visibility of the underground utilities:
Pipeline Markers – the U.S. Department of Transportation requires that signs mark an approximate location of a pipeline. In general, they are placed at road, railroad and waterway crossings, except in urban areas where line locator services are available. Rhino Marking and Protection Systems revolutionized the Damage Prevention industry when they introduced their

TriView marking system in 1997. The marker provides 360° visibility,

is impact resistant, durable, weather resistant and green.

"Call Before You Dig" or "One-Call" Program – 811 is a relatively new federally-mandated program developed to provide an excavator a way to have the utilities marked prior to excavation.
After calling 811 and the facilities have been marked, a contractor can carefully expose the pipeline and install a pipeline wrap which improves the visibility and protects the pipeline integrity during excavation. View the video below to demonstrate how Safety Wrap offers pipeline protection during excavation.
Damage prevention starts before digging
There is a proactive way companies can protect themselves from costly litigation and fines, like those penalties Enterprise Pipeline is currently facing. The CGA One-Call Systems and Damage Prevention Best Practices recommend that a contractor take and document the excavation site before digging. 4
"If locate markings are adequately documented through the use of photographs, video tape, or sketches before excavation work begins, it will be easier to resolve disputes if an underground facility is damaged due to improper marking, failure to mark, or markings that have been moved, removed, or covered. It is important for excavators and locators to document the location of markings before excavation work begins. The primary purpose of this best practice is to avoid unnecessary litigation and expensive legal fees for all parties involved."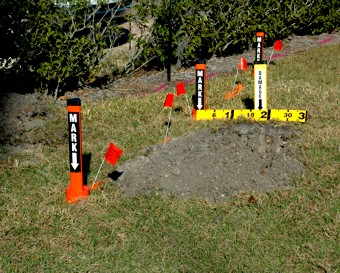 By following this CGA Best Practice by marking ines before a hit, the excavator protects themselves against expensive litigation and penalties like Enterprise is currently facing. There are commercial "hit kits" which provide contractors marking posts and measurement tools needed to create photographic documentation which can be used to keep you out of court.
Perhaps we can learn from the recent tragic accidents in Texas. There are simple and relatively inexpensive ways to improve visibility of underground facilities and prevent accidents. We could better use programs like the "Call Before You Dig." We should comply with DOT line marker regulations. We could enhance excavation methods by wrapping pipelines during excavating, and we could proactively document excavation sites before digging.
Picture above: The Rhino HIT Kit is compliant with CGA Best Practices 5-11, where the contractor clearly documents markings and protect him or her from costly litigation.

1 Parfomak, P. CRS Report for Congress – Pipeline Safety and Secrurity: Federal Programs, 2008. Page 13.
2 PHMSA. Retrieved on October 6, 2010, from (https://www.phmsa.dot.gov/portal/site/PHMSA/menuitem.ebdc7a8a7e39f2e55cf2031050248a0c/?vgnextoid=2c6924cc45ea4110VgnVCM1000009ed07898RCRD&vgnextchannel=f7280665b91ac010VgnVCM1000008049a8c0RCRD&vgnextfmt=print#QA_2

3 LUNA, T., September 1, 2010. Report: Human error caused June natural gas pipeline explosion that killed 1 in Johnson County. Retrieved October 6, 2010, from https://www.dallasnews.com/sharedcontent/dws/dn/latestnews/stories/090210dnmetexplosion.affe1b96.html

4 CGA Common Ground Alliance Best Practices Version 7.0. Retrieved October 6, 2010 from, https://www.commongroundalliance.com/Content/NavigationMenu/Best_Practices/Best_Practices_2010/BP_7.0_Final_March2010.pdf
Trackback URL for this blog entry.