Natural Gas Measurement, Underground Utilities and More Blog
We provide insights on natural gas measurement, underground utility damage prevention, utility contractor services and various natural gas products. Formerly the Linc Energy Blog.
OQ Training Classes | Operator Qualification Courses
As part of our Utility Contractor Department, Linc Energy Systems offers hands-on OQ Training classes for pipeline operators to keep compliant with federal regulations.
What is OQ Training?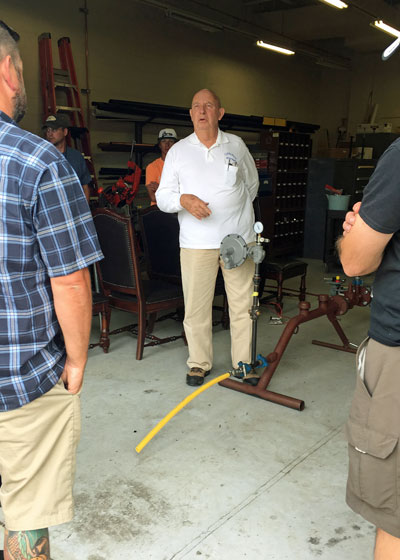 Providing hands-on, in person OQ training for pipeline operators. OQ Training assists pipeline operators in complying with the Office of Pipeline Safety (OPS) of the Department of Transportation's (DOT) Qualification of Pipeline Personnel Regulation (49 CFR Part 192 Subpart N and Part 195 Subpart G). The Operator Qualification Rule requires that pipeline operators transporting hazardous gases or liquids in US pipelines must maintain a written qualification program involving the employees or contractors working on their pipeline.
As a result of the regulations, it becomes the responsibility of the pipeline operator to document and certify that their workers are "qualified" on "covered tasks."
What is Qualified?
Qualified in this regard means the worker has been evaluated by an evaluator and found to be proficient in performing the "covered tasks" and was able to respond successfully to unusual working conditions.
Who is the Evaluator?
The evaluator is any person who is witnessing the worker's performance. He or she should have the ability to determine if the employee is capable of performing the covered task. The evaluator also needs to substantiate the testee's ability to identify and react to abnormal working conditions that may present while performing the tasks.
What are Covered Tasks?
A covered task would be any activity or particular job function an employee (or contractor) may perform on the pipeline facility. The pipeline facility is any new or existing pipelines, rights of way, equipment, facilities or buildings used in the transportation of hazardous material. The covered task would be in the operator's written qualification program as any task that:
Is performed on a pipeline facility
Is an operations or maintenance task
Is carried out as a requirement of section Part 192 or Part 195 (Qualification of Pipeline Personnel)
Affects the operation or integrity of the pipeline1
Operator Qualification Classes
In a world where online classes excel, we still do it the old-fashioned way. We take the role of the "evaluator" seriously and train in-person, with a balance of hands-on and classroom instruction to better ascertain the worker's abilities. We offer classes at one of our Wheat Ridge Colorado facilities, or we travel to the customer's location.
For each of our clients, we customize the curriculum to accommodate the needs of the customer. If you would like more information about our training, request a quote!
1 http://phmsa.dot.gov/staticfiles/PHMSA/DownloadableFiles/Files/Pipeline%20Training/d_Chapter_I.pdf
Blog posted from
11919 W Interstate 70 Frontage Rd N #109, Wheat Ridge, CO 80033, USA
View larger map
Trackback URL for this blog entry.