Natural Gas Measurement, Control, and Odorization Log
We provide insights into natural gas measurement, control, odorization, and various natural gas products.
Natural gas filters, strainers, scrubbers for instruments
Natural gas contains impurities. It's possible that foreign material such as loose scale, rust, weld beads, grit or other contaminants can damage expensive downstream equipment. For this reason, natural gas filters, strainers, scrubbers and natural gas dryers become an inexpensive and effective way to prevent equipment damage and failures.
Linc Energy Systems is pleased to announce that one of our principals, IMAC Systems, is releasing new gas filtration products.
Eliminator Pilot Filter
The IMAC Eliminator Series is a particulate and coalescing filter and can be used as a pilot filter, chemical injection filter, sample protection filter, gas analyzer filter, catalytic heater filter or instrument filter. This air and natural gas filter performs at high pressure (MOP of 5000 PSIG) with a 316L stainless steel filter assembly.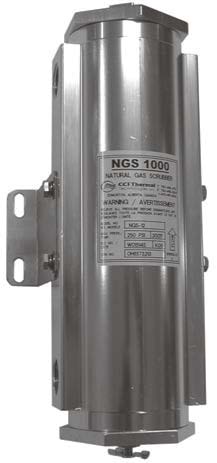 The NGS1000 Natural Gas Scrubber is designed for industrial applications.
High Pressure Instrument Filter Dryers
IMAC Instrument Filter Dryer, a desiccant dryer, provides cost effective filtration to supply gas for high pressure control instrumentation, such as pneumatic controllers, catalytic heaters, enclosure systems, and other instruments. The removal of contaminants helps eliminate costly downtime, and increase the performance lifetime of the equipment it is protecting. The IMAC natural gas dryer removes particles, moisture, H2S, odorant, and other impurities down to 3 microns. The IMAC desiccant dryers are available in various assemblies to accommodate the applications; pressure cuts (regulators), gas conditioning (catalytic heaters), automatic filter switching, and drain valve. The units are easy to install, provide trouble-free maintenance and maximum scrubbing. The removal of unwanted contaminants helps eliminate costly down-time and increase performance and longevity for equipment downstream.
Low Pressure Instrument Dryers
IMAC Systems offers two low pressure instrument dryers, the Flo-Dri Filtration and Natural Gas Scrubbing systems.
Flo-Dri gas scrubbers are designed for gas conditioning appliances, such as instruments and catalytic heaters. The filter systems remove aerosols, contaminants, H2S, moisture, oil and solids, which eliminates costly downtime associated with catalytic heater failure. The patented system is engineered for long life, low maintenance and easy cartridge change outs. The units remove particles down to 0.5 micron and have various sizes to accommodate flow rates from 1-150 SCFM and perform up to a working pressure of 250 PSIG.
NGS 1000 natural gas scrubbers are designed for gas-fueled catalytic heaters (and other fueled appliances) in industrial applications. The unit removes particulates down to 0.5 microns, and has two sizes for applications having flow rates 10-25 SCFM and a working pressure of 250PSIG. The NGS 1000 features a desiccant-based scrubber cartridge that is easily installed and maintained.
IMAC filter dryers are appropriate to protect gas supply to:
Pneumatic Controls
Regulation Skids / Stations
Pigging Stations
Thermo-Electric Generators
Moisture Analyzer Cabinets
Catalytic Heaters
Line Heaters
Valve Actuators
Dumps
Measurement Skids / Stations
Thermo-Electric Generators (TEGs)
Control Valves
Automated Drips
Methanol Injection Systems
If you'd like more information on using the IMAC filtration equipment, call us at 303-697-6701 or email info@lincenergysystems.com. Or if you'd like to learn more about our new catalytic heaters, visit What is a catalytic heater and how does it work?
Our Territory
Linc Energy Systems services the Rocky Mountain and surrounding states,* including:
Colorado (CO), including: Boulder, Colorado Springs, Cortez, Denver, Durango, Grand Junction, Greeley, Pueblo, Rangely, Rifle, San Juan Basin, Steamboat Springs and Sterling
Idaho (ID), including Boise, Idaho Falls, Mountain Home, Pocatello and Twin Falls
Montana (MT), including: Billings, Bozeman, Kalispell, Missoula
Western Nebraska (NE)
New Mexico (NM), including Albuquerque, Farmington, Gallup, Fort Sumner, Hobbs, Las Cruces , Los Alamos, Santa Fe
Western North Dakota (ND), including Bismark
Western South Dakota (SD), including Rapid City
Portions of Texas (TX), including Odessa and Midland
Utah (UT), including Centerville, Murray, Ogden, Provo, St. George, Salt Lake City, Vernal
Wyoming (WY), including: Big Piney, Casper, Cheyenne, Cody, Evanston, Evansville, Gillette, La Barge, Laramie, Rawlings, Rock Springs and Sheridan
*Linc Energy Systems does not represent all of its products and all manufacturers in the entire service territory.
Trackback URL for this blog entry.