Natural Gas Measurement, Underground Utilities and More Blog
We provide insights on natural gas measurement, underground utility damage prevention, utility contractor services and various natural gas products. Formerly the Linc Energy Blog.
Featured
Gentherm GPT Authorized Distributor (Formerly Global Thermoelectric)
Linc Energy Systems is happy to announce that we are now an authorized distributor of Gentherm Global Power Technologies (GPT) thermoelectric generators.
Gentherm Global Power Technologies (GPT)
Gentherm Global Power Technologies, formerly Global Thermoelectric, is the leading manufacturer of industrial thermoelectric generators which provide reliable and cost-effective industrial power. These power sources are ideal for challenging remote locations that do not have access to power sources or reliable grid energy. Even in the desert heat, extreme cold, and adverse weather conditions, they perform well. Because they have no moving parts and require minimal maintenance, they are an excellent alternative for those tough to reach sites like offshore drilling as well as in dense jungles and forested areas.
Global Thermoelectric Generators (TEGs)
Thermoelectric Generators (TEGs) provide cost-effective power for challenging sites with outputs ranging from 5 to 550 watts and applications requiring up to 5000 watts.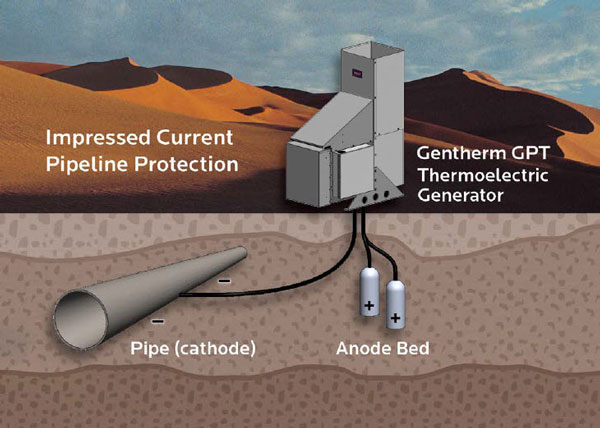 Gentherm Global Power Technologies TEGs provide reliable and continuous electrical current to those tough to reach CP sites.In the oil and natural gas industry, many applications require this type of reliable energy.
Cathodic Protection
The industry uses cathodic protection (CP) to control corrosion of pipelines, wellhead casings and tanks, steel pier piles, and offshore oil platforms. The GPT TEG generator provides cost-effective, reliable, and continuous electrical current to those tough to reach CP sites.
SCADA
SCADA systems permit organizations to control and monitor industrial processes, and they are widely found in the oil and gas industry and throughout the different sectors, especially the transportation of gas and oil in pipelines. TEGs are used to power telemetry units, gas analyzers, metering equipment, emergency shutdown, and other equipment used in SCADA systems.
Valve Automation
From solenoid valve control to instrumentation lines, to the actuation on distribution block valve stations, GPT's TEGs supply dependable remote power for remote control and monitoring.
How can we help you?
If you have an application that you would like assistance with Global Power Technologies (GPT), please call us at (303) 697-6701 or message us here.
Trackback URL for this blog entry.