Natural Gas Measurement, Underground Utilities and More Blog
We provide insights on natural gas measurement, underground utility damage prevention, utility contractor services and various natural gas products. Formerly the Linc Energy Blog.
GAZOMAT Leak Detection Systems, Gas Detectors, Methane Monitor
Linc Energy Systems is now an authorized distributor of GAZOMAT™ leak detection equipment for natural gas distribution and transmission systems. GAZOMAT'S line includes combustible gas detectors, methane detectors, leak detection equipment for leak surveys and methane emissions monitoring systems.
GAZOMAT
GAZOMAT has over 25 years in business manufacturing electronic user-friendly gas detection equipment. The company makes indoor and outdoor gas leak detectors, and gas network survey systems at their facilities in Colton, California and Strasbourg, France.
Methane Detector with Laser Technology
The GAZOMAT™ INSPECTRA® LASER portable methane detector measures methane gas leaks and identifies the locations. The device is ATEX certified, permitting use in hazardous areas. Some of the available accessories include a GPS Tablet which runs the NGS Software allowing the operator total electronic traceability of the operation.
Leak Survey - Gas Leak Detection
Using an exclusive laser technology, GAZOMAT manufactures two systems that support mobile gas leak surveys for gas transmission and distribution pipelines:
The VSR INSPECTRA® methane detection system, when mounted on a vehicle and used in combination with the GAZOMAT NGS Software is a powerful system that meets productivity, traceability, and reliability needs of operators when surveying low- and medium-pressure gas pipelines.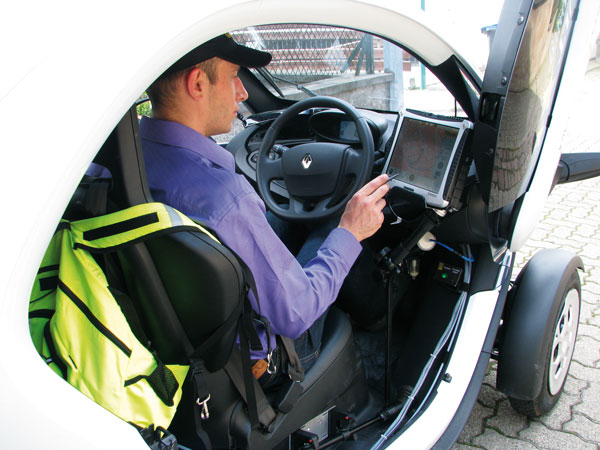 The EASY INSPECTRA™ leak detection system, when installed on an ATV or compact electric vehicle, becomes the ultimate leak-survey system for cities or densely populated urban areasThe EASY INSPECTRA™ leak detection system, when installed on an ATV or compact electric vehicle, becomes the ultimate leak-survey system for cities or densely populated urban areas. What makes this system unique is that it permits the user to move from a mobile leak survey to a walking investigation, on the fly, with uninterrupted detection. This functionality exists when integrating the INSPECTRA LASER Analyzer, a customized backpack, GPS Tablet and the NGS Software.
4 Gas Detector (Multi-function)
The GAZOTRACK™ 4 gas detector distinguishes four gases. The combustible gas detector senses methane (CH4) using a nondispersive infrared sensor. Three additional electrochemical sensors discern other gases, such as carbon monoxide (CO), oxygen (O2) and a third electrochemical sensor detects either tetrahydrothiophene (THT), tertbutyl mercaptan (TBM) or Hydrogen sulfide (H2S).
Methane Monitoring
The GAZOMAT NGMesh methane monitor system is a comprehensive methane emission monitoring system that helps natural gas operators remain compliant with regulations and keeps the facilities safe. The NGMesh Web enterprise system includes the hardware and software needed to monitor methane leaks. Real-time automatic alerts enable the operator to deploy appropriate personnel to mitigate gas leakage quickly. By pinpointing and repairing the gas leak as soon as possible, safety risks, greenhouse gas emissions, and product losses are all alleviated. The system also generates automated leak survey reports and regulatory compliance reports.
For more information. Click through to the GAZOMAT products pages, request a quote now, or call (303) 697-6701.
Trackback URL for this blog entry.