Natural Gas Measurement, Underground Utilities and More Blog
We provide insights on natural gas measurement, underground utility damage prevention, utility contractor services and various natural gas products. Formerly the Linc Energy Blog.
Agave Wire Distributor Announcement | Copper and CCS
Linc Energy Systems is pleased to announce that we are now an Agave tracer wire distributor, offering a wide selection of copper and copper clad steel (CCS) locating wire for open trench and utility directional drilling applications.
Agave Wire Ltd
Agave Wire Ltd manufactures a wide assortment of wire, including copper tracer wire and copper clad steel PE tracer wire. Their headquarters are in Dallas, Texas, and they pride themselves on their customer service. Agave creates customized client profiles to help understand and satisfy each customer's needs. Their tracer wire is UL approved for gas, water, sewer and optic cable; it is Restriction of Hazardous Substances (RoHs) compliant and available in APWA uniform colors.
Tracer Wire (Locating Wire)
Natural gas pipe is made from medium-density or high-density polyethylene (plastic), which is a nonconductive material. Tracer wire is the component that makes the gas pipeline traceable when using electromagnetic utility locators. The cable is either installed beside the pipeline during installation (before a trench is buried) or during utility installation directional drilling.
Traditional tracer wire consists of copper, which is very expensive and varies quite extensively in price, making it cost prohibitive at times. Additionally, the copper wire is prone to theft, causing property damage.

Agave offers a wide range of products depending upon the application. While they have copper tracer wire, we recommend their Flexible CCS Tracer Wire for open trench applications.
Directional Drilling Tracer Wire
For directional drilling or more challenging installations, Agave offers their BoreTough line which includes high-strength and extra high-strength copper clad steel (CCS) PE tracer wire at varying break load (tensile) strengths, up to 1150 pounds.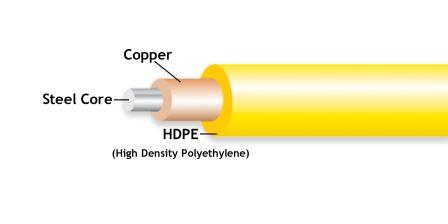 Linc Energy Systems is an Agave tracer wire distributor, offering copper and CCS locating wire for open trench and utility directional drilling applications.Both their Flexible CCS Tracer Wire and BoreTough line offer comparable signal strength (as compared to copper wire) and cost significantly less, with better price stability, than traditional copper tracer wire.
You can find more information about the manufacture on Tracer Wire for product information.
Damage Prevention Specialists
At Linc Energy Systems, we specialize at damage prevention and offer a wide range of solutions to the natural gas industry and those businesses serving the market. We service the Rocky Mountain territory and surrounding states.
Blog posted from
11919 W Interstate 70 Frontage Rd N #109, Wheat Ridge, CO 80033, USA
View larger map
Trackback URL for this blog entry.