What makes utilities and pipelines locatable?
What makes utilities locatable? Without tracer wire, a pipeline utility locator would not be able to locate the facility or pipeline. Pipeline corrosion and digging by third party individuals or contractors are among the two leading causes of pipeline accidents. In earlier posts, I've discussed the significance of protecting pipelines against corrosion. I also discussed the importance of calling 811 to locate the utility lines before digging. But calling 811 does not always guarantee your lines will be located, which made me wonder what makes pipelines and facilities locatable?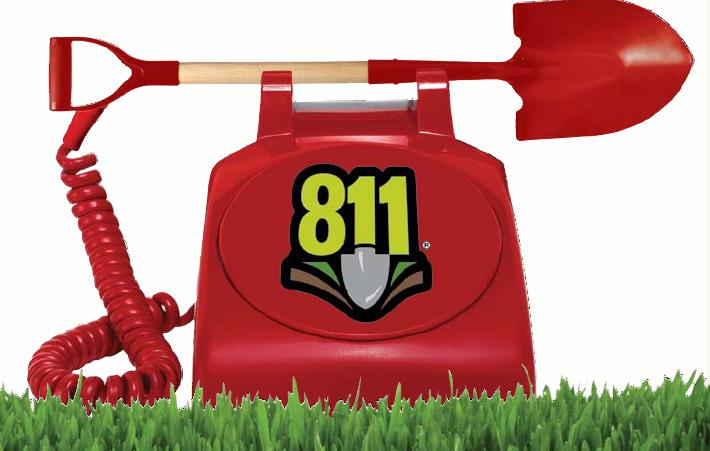 In Colorado, when calling 811 you will be arranging to have what is known as "Tier 1" utilities located. The 811 organization for Colorado is UNCC and they will additionally provide the excavator with contact information for Tier 2 utilities that are in your area, and it is the responsibility of the excavator or homeowner to call those Tier 2 utilities to request a locate.
After locators have arrived, sometimes the excavator or homeowner learns that their lines can't be located. This usually raises frustrations and questions.
What makes a line locatable?
Most utility locating equipment uses a technology known as ground-penetrating radar (GPR). Others may refer to it as electromagnetic pipe detection (EPD). This science is based on the principle that an electrical current will flow on conductive material, creating a magnetic field which can be received as a signal, and indicate the presence of a pipeline by location equipment.
Most gas or oil transmission lines use carbon or low alloy steels. These lines will generate a magnetic field when charged so that the lines can be detected. However, gas distribution lines are commonly polyethylene (PE) and will not carry a current. Therefore the line will not be locatable by itself unless a tracer wire was installed at the time of pipeline installation.
In this case, tracer wire is installed next to a pipeline and made accessible at various access points like manholes, valve boxes, vaults, or other enclosed access devices. When the tracer wire is charged at an access point a magnetic field will provide a signal the locator can use with GPR /EPD equipment. Tracer wire makes non-locatable lines (made of polyethylene, plastic, fiberglass or concrete) locatable when they remain intact.
While tracer wire offers an effective way to trace a line, the system is not flawless. Some well-known reasons tracer wire fails are:
The common material used in tracer wire is copper. Unfortunately, copper is expensive which has made tracer wire prone to theft and you can't trace a line if it's not there!
Copper wire is inflexible and can break during installation and a broken line won't carry the current.
Many tracer wires have vinyl or nylon coatings that fail prematurely when the line is exposed to moisture.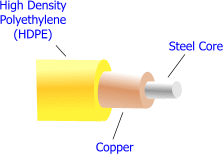 Due to these common weaknesses, tracer wire manufacturers have been challenged to introduce alternatives. Some product advancements include corrosion resistance, superior strength, and durability, and cost expensive alternatives to traditional copper tracer wire.
What makes utilities and pipelines locatable? Without a pipeline being constructed with conductive material or a line installed with tracer wire, the line locator is left with line-of-sight locating which is highly subject to error.