Trenton corrosion prevention systems for pipelines
Linc Energy is a manufacturers' representative and stocking distributor for Trenton corrosion protection systems commonly used in oil and natural gas pipelines. The Michigan based company has manufactured wax-based anticorrosion protective systems since 1949. All over the world, Trenton Corporation products have been used to protect thousands of miles of pipelines.
Trenton's corrosion protection systems
Wax-Tapes
At the foundation of Trenton's anti-corrosion systems is their wax tape. The tape consists of corrosion inhibitors that can conform to irregularly-shaped fittings as well as various materials.
#1 Wax-Tape is used for belowground metal surfaces, both pipe and fittings and is widely used in the oil and gas, water and chemical industries. The tape supports cathodic protection and is compatible with steel, ductile iron, and PVC. It is ideal where minimal surface preparation is possible, can be applied over wet surfaces and requires no drying or curing time before backfilling.
#2 Wax-Tape is used for both above and below ground applications, though its weather and UV resistance make it the preferred choice for aboveground applications. It also works well in corrosive industrial environments, is compatible with other coatings and can be applied to wet surfaces. It firms up and does not require other outercoat or outerwrap, and can even be painted.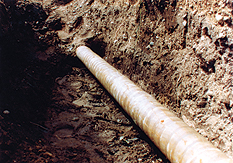 Primers
A key component of the Trenton Wax-Tape system is the primer. Trenton's primers penetrate surface rust in preparation for the wax-tape application.
Innercoat & Guard-Wrap
The combination of Innercoat hot-applied wax and Guard-Wrap wrapper is an ideal system for new service installations, field patching, weld cutbacks, and pipeline reconditioning.
Outer wraps
When conditions require more mechanical protection, Trenton offers outer wraps to meet the needs of each situation.
Casing Filling
Trenton offers the choice of full-service casing filler installation through a 6000-gallon tank truck or a cold installation with 55-gallon drums for smaller quantity projects.
Linc Energy represents Trenton Corporation in Colorado, Utah, Wyoming, and Idaho, and maintains inventory in its warehouse just outside of Denver Colorado.
Related Blog Articles: