Sage Metering Most Improved Sales Representative
Last week I was thrilled to learn that Linc Energy Systems won an award from Sage Metering, the innovative manufacturer of thermal mass flow meters. We were named the "Most Improved Sales Representative" for 2015.
Sage Metering Sales Representative
We took on the Sage Metering flow meters about five years ago. Admittedly, it took some time to gain momentum with this product line. Like many technical lines where you are dealing with field engineers, meter shop managers, purchasing agents, and at times employees at multiple locations, selling becomes more about building relationships and less about reaching a quota, and relationships take time.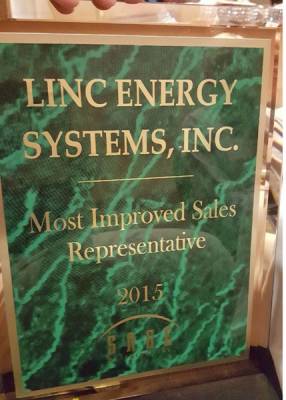 There are manufacturers with demanding and unreachable quotas that take the wind out of your sail (sale). I am grateful to Sage Metering and some of our other principals who recognize when their products have long-term selling cycles and that they do not jump ship while the sail is being raised.
I am proud of our team, and we are looking forward to continued success with Sage Metering thermal mass flow meters.
 Thermal Mass Flow Meters
Sage Metering is a pioneer in the technology development of thermal mass flow meters. The company was founded in 2003 when they introduced the first hybrid-digital thermal flow meter with improved resolution and reproducibility. They brought to market the first easy-to-use in-situ calibration verification process, and they produce the Prism, the only portable, industrial-quality thermal flow meter with extensive data logging capabilities.