Richard (Dick) Hannan Former CEO Mercury Instruments Remembered
With the new year, my company enters its 29th year in business, and I'm reminded of the passing of Mr. Dick Hannan, formerly of Mercury Instruments, who had a significant influence on my life and my company.
Dick Hannan of Mercury Instruments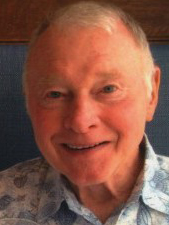 One of the cornerstones of my business philosophy has been "The customer is always king (or queen)." I adopted this perspective from my mentor, Richard (Dick) Hannan, the former CEO of Mercury Instruments. It was Dick Hannan who encouraged that I become a manufacturers' representative for Mercury Instruments in the Denver and Rocky Mountain states, hence the birth of Linc Energy Systems. That invitation was in 1989.
The name Mercury Instruments in the industry has always denoted precision, quality, and the leader; all attributes equally synonymous with Dick Hannan. Most are aware that today, Hannan's company lives on through the Honeywell Mercury product line, as premium instrumentation that measures and monitors gas pressure, temperature, volume, and flow, enabling users to exercise full control over their regulating and measuring needs.
Dick also was the co-author of The Human Element: The Foundation of Business At Its Best, suggesting that people are the single unifying and fortifying element across the business and that by understanding people's point-of-view, their needs, and ideals, one can succeed along in a mutually respectful and beneficial way.
I am grateful for Dick Hannan's guidance and proud to have worked with him. He will be sorely missed.
Below is his obituary published in The Cincinnati Enquirer from Dec. 17 to Dec. 18, 2018.
Montgomery – Richard D. Hannan, beloved husband of the true love of his life, Jeanne M. (nee Juodis) for 64 precious years. Loving father of Hollie J. Hannan and Lauren Hannan Shafer, devoted Grandfather of Isabelle, Sophie and Celie, brother Robert Hannan (Boston), sister-in-law Anne Juodis (Rhode Island), son-in-law Thomas Shafer, step-Grandfather to Lucy, Otto, Evelyn, Agatha Shafer, and numerous nieces and nephews.
Richard, entrepreneur with high integrity, love of family, respect for all people, proud Marine Corps Captain, graduate of Tufts University, University of Penn Wharton Graduate School, post-graduate work at Harvard and Stanford, continued a lifelong pursuit of education and interest of people from all walks of life.
Founder and President of Mercury Instruments, Director of Federal Reserve Bank of Cleveland (two 3 year terms), 50 years as a member of Cincinnati Rotary and also as a member of Kenwood Country Club, and of the Gas Appliance Manufacturers Association (GAMA).
Richard passed away December 14, 2018, at the age of 88
In lieu of flowers, donations may be directed to:
Ohio Valley Voices, 6642 Branch Hill-Guinea Pike, Loveland, OH 45140
CYC/Saturday Hoops, 301 Oak St., Cincinnati, OH 45219
Hospice of SW Ohio, 7625 Camargo Rd, Cincinnati, OH 45243
Cincinnati Speech & Hearing Center, 2825 Burnet Avenue # 401, Cincinnati, OH 45219.
-Condolences may be expressed at GilliganFuneralHomes.com
APA: Richard Hannan Obituary – Cincinnati, Oh | The Cincinnati … (n.d.). Retrieved from https://www.legacy.com/obituaries/cincinnati/obituary.aspx?pid=191011286